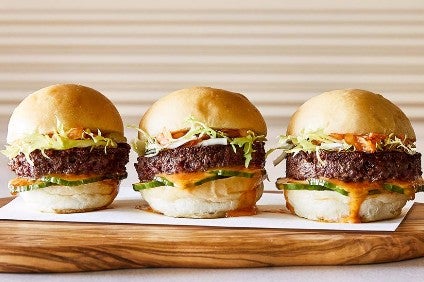 Fledgling US meat-free burger maker Impossible Foods has stood by the key ingredient in its flagship product after a local NGO claimed the company was told by regulatory officials it had not provided enough proof of its safety.
US environmental and consumer advocacy body ETC Group claimed it had obtained documents that showed the country's Food and Drug Administration believed Impossible Foods' evidence of the safety of the soy leghemoglobin used in its burger "individually and collectively, [does] not establish the safety of SLH for consumption, nor do they point to a general recognition of safety."
ETC Group research programme manager Jim Thomas said the FDA "told Impossible Foods that its burger was not going to meet government safety standards". Thomas said Impossible Foods, which has secured financial backing from investors including Singapore's state-owned Temasek Holdings and Bill Gates, "should pull the burgers from the market unless and until safety can be established by the FDA".
The New York Times first reported on ETC Group's claims, which the newspaper said centred on documents the NGO obtained under a Freedom of Information Request.
Impossible Foods has hit back, insisting "the world's leading experts on food safety and allergenicity agreed multiple times [soy leghemoglobin] is safe to eat".
In a statement, the company said: "Impossible Foods engaged respected, objective academics, who are among the world's top experts in food safety and allergenicity. They repeatedly agreed that Impossible Foods' key ingredient, soy leghemoglobin, is GRAS. Nevertheless, in addition … Impossible Foods voluntarily submitted a GRAS Notice to the FDA, seeking the agency's independent review and comment."
Impossible Foods said it had not initially conducted research on the ingredient using rats but had since done so. It said it would submit the results of the study to the FDA later this month.
"The study examined whether consumption of soy leghemoglobin in amounts orders of magnitude above normal dietary exposure would produce any adverse effects. There were none. A comprehensive search of allergen databases found that soy leghemoglobin has a very low potential for allergenicity. In compliance with federal regulations, Impossible Foods labels its product to reflect the potential allergens soy and wheat."
Though still a small cohort of the US population, the numbers of consumers who identify as vegetarian or vegan is rising. There is also growing interest among meat-eaters to reduce their meat intake. With these consumer trends as a backdrop, a number of companies have developed and are marketing plant-based products that they claim, to varying degrees, resemble the texture and taste of meat.
Earlier this month, Impossible Foods announced it had attracted US$75m in investment led by Temasek.
The latest investment round at Impossible Foods was the first time Temasek has backed the California-based business. The San Francisco-based Open Philanthropy Project has also backed the company for the first time.
Existing investors Bill Gates, California fund Khosla Ventures and Hong Kong-based Horizon Ventures also pledged contributions, although Impossible Foods did not provide any other financial details.