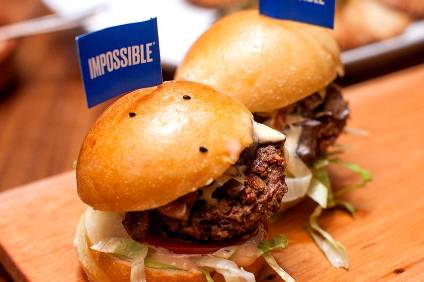 Impossible Foods, the US business which makes plant-based burgers and faux pork products, has raised around US$500m in a new fundraising round.
It said the funding will help it to fight off the threat of coronavirus.
The new investment brings total funding for the California business to nearly $1.3bn.
This round was led by new investor Mirae Asset Global Investments, with participation from existing investors including Khosla Ventures, Horizons Ventures, and Temasek.
The business was founded in 2011 and created the Impossible Burger in 2016. It is now sold by fast food giant Burger King in the US and in more than 17,000 outlets in total in its home market, Hong Kong, Singapore and Macau.
Impossible Foods said it will use the new funding in part to invest in "fundamental research and innovation," in expanding its retail presence and commercialising "next-generation products including Impossible Sausage Made From Plants and Impossible Pork Made From Plants".
Its founder and CEO Patrick Brown said: "Our mission is to replace the world's most destructive technology – the use of animals in food production – by 2035. To do that, we need to double production every year, on average, for 15 years and double down on research and innovation.
"Our investors not only believe in our mission, but they also recognise an extraordinary opportunity to invest in the platform that will transform the global food system."
Company chief financial officer David Lee said the latest funding will allow the company to "continue to thrive in a volatile macroeconomic environment, including the current Covid-19 [coronavirus] pandemic".
The firm said it has taken aggressive measures to prioritise the health and safety of its employees since the onset of the Covid-19 outbreak, including mandatory work-from-home policies for all workers who can conceivably telecommute, through to the end of April.
"Our number one priority is the safety of our employees, customers and consumers," Brown said. "And we recognise our responsibility for the welfare of our community, including the entire San Francisco Bay Area, our global supplier and customer network, millions of our customers, and billions of people who are relying on food manufacturers to produce supplies in times of need."
Impossible Foods also boasts a number of well-known celebrity investors including Microsoft founder Bill Gates and singers Common, Jay-Z and Katy Perry.