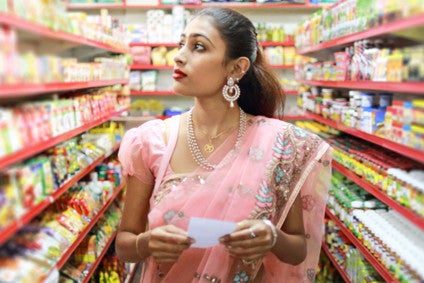 India's food safety regulatory body has proposed the introduction of a tax on all packaged foods containing high levels of fat, salt and sugar.
The Food Safety and Standards Authority of India (FSSAI) is also calling for a ban on advertising such products during children's TV shows and for the labelling of foods to be stricter.
The FSSAI, did not specify, however, the level of tax it wishes to impose.
The recommendations, made by an "expert panel" convened by the FSSAI, are in an attempt to combat India's growing obesity problem and the increasing prevalence of so-called lifestyle diseases such as high blood pressure, diabetes and cardiovascular disease.
In India, these diseases account for around 53% of all deaths, with estimates of such fatalities likely to register a sharp increase of over eight million by 2020 from the less than four million seen before 2000.

"In India, the rising burden of mortality and morbidity due to chronic diseases such as cardiovascular, respiratory diseases, diabetes and cancers is alarming," said the panel's report. "In the next 25 years, the burden of chronic diseases will tend to increase continuously as a ramification of the rapidly transitioning food intakes, changing dietary patterns and other lifestyle factors.
"Thus we need to recognise and formulate strategies to reduce the burden of risk factors that fuel the chronic disease epidemic. One such established risk factor is unhealthy diet, especially those high in trans and saturated fats, refined sugars and salt.
"Imposing additional tax on the purchase of commodities such as pre-packaged foods with high salt and fat content, sugar-sweetened beverages can be a pragmatic approach to reducing the rising burden of chronic disease among the Indian population."
The watchdog not only wants a tax slapped on junk food, but has also proposed that celebrity endorsements of unhealthy foods should be "discouraged" and promotions and advertising of these food items on social media be restricted. Packaged foods are currently amongst the top advertisers on India's TV channels.
Manufacturers, too, should be forced to disclose "total calories, amounts of carbohydrate, sugars, fat, protein, sodium, dietary fibre" and "trans fat added" on the labels, the FSSAI notification added.
At present, only 52% of Indian food products display nutritional information, with significant variations in compliance for leading brands, country of manufacture and food groups.
The regulator has also urged companies to voluntarily reformulate their food products to reduce fat, sugar and salt.