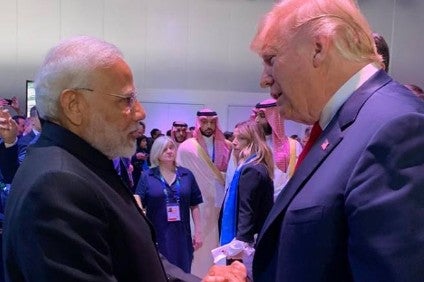 The Indian government has increased tariffs on a range of goods imported from the US in a retaliatory move after President Trump's administration cancelled India's preferential trade partner status.
On Saturday (15 June) India's Ministry of Finance told the World Trade Organization it would be upping tariffs on a 28-strong list of US goods including almonds, lentils. walnuts and apples. Some of the newly announced tariff rates are as high as 70%.
The new tariffs regime came into effect yesterday (16 June).
In early June, President Trump announced India would lose its trade privileges with the country as a beneficiary of the Generalized System of Preferences. India was said to have benefited from duty-free exports to the US of up to US$5.6bn before the president's volte-face.
Some US$5.6bn worth of Indian exports – previously duty-free in the US – will be hit now the country has lost its preferential status.
On Saturday, in retaliation, India amended a previous order "to implement the imposition of retaliatory duties on 28 specified goods originating in or exported from USA," according to a government notification seen by just-food.
According to the Office of the US Trade Representative, US-India bilateral trade was worth $142bn in 2018, a seven-fold increase since 2001. India was the United States' 13th largest goods export market in 2018.
US total exports of agricultural/food products to India totalled $1.5bn in 2018 with leading export categories including tree nuts ($662m), fresh fruit ($16m), dairy products ($48m), and prepared food ($33m).
The UK broadcaster BBC points out the latest tariffs from India come just days before country's foreign minister, Subrahmanyam Jaishankar, is due to meet his US counterpart, Mike Pompeo, at a G20 summit in Japan.