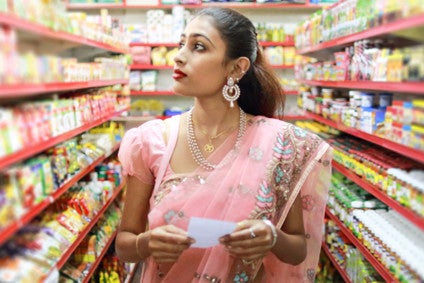 Major food manufacturers operating in India, including Nestlé and Unilever as well as domestic players like Britannia Industries and ITC, have pledged to reformulate their products to help tackle diet-related illness.
India's government has launched an 'Eat Right Movement' to improve public health and combat disease linked to poor eating habits.
The programme will "nudge food businesses to reformulate their products, provide better nutritional information to consumers and make investments in healthy food as responsible food businesses," The Food Safety and Standards Authority of India (FSSAI) said.
Under the voluntary scheme, a number of food companies have pledged to reformulate packaged foods to reduce the level of salt, sugar and saturated fat, although the FSSAI did not set out how much the ingredients would be cut nor a target date for the work to be complete.
The FSSAI said participating companies include Nestlé, Hindustan Unilever, bakery-to-dairy major Britannia Industries, breakfast cereal maker Bagrry's India, local snacks supplier Bikanervala Foods and Patanjali Ayurved.
One of the companies to have said they would take part, ITC, posted a tweet that indicated by how much it could make reductions in certain categories.
According to @bsindia ITC to cut down on use of salt by 10 per cent in noodles and 10% less added sugar in 75% of its beverages by 2023.
Read the full report https://t.co/hl0pwKg96r

— ITC Limited (@ITCCorpCom) July 11, 2018
Meanwhile, participating edible oil manufacturers, bakeries and 'halwais' (traditional sweet makers) have, as part of the programme, committed themselves to phase out using trans-fats by 2022.
Industry associations are backing the move. "We are going to be very stringent on trans-fats," Subodh Jindal, president of All India Food Processors' Association, in New Delhi, told just-food. "Industry will [also] try to make new products with less salt and sugar and if the next generation catches on the taste they will become more popular."
However, according to Jindal, packaged food bought through the grocery retail channel still only comprises 10% of total food consumption.
Jindal argued consumers must be made aware of the impact on their health of all food they eat, although he reflected it may not always be easy to influence eating habits.
"One leading food chain tried to serve 'raita' [a yoghurt dish] with less salt, and soon consumers objected, and table salt had to be added to the dish," Jindal said.
One major dairy manufacturer also suggested cutting salt in products such as butter and cheese may be a challenge. "It might be easier to bring reduction in sugar than salt as salt also acts as a preservative giving the industry the advantage of a longer shelf life," Ashwani Kumar Aggarwal, executive director at Haryana-based Modern Dairies, said.
There was some concern in campaign circles about whether the voluntary programme would pay off.
Amit Khurana, programme manager for food safety and toxins at Centre for Science and Environment, said the initiative might not be as effective as the FSSAI hopes. "For a country like India, regulations are paramount, voluntary approaches… they look OK on the face of it but their results are not always good."