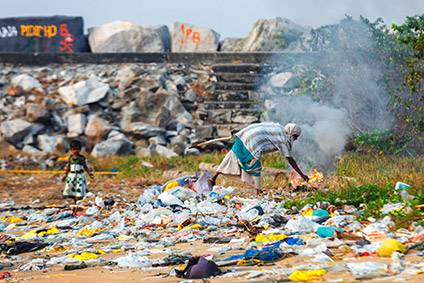 Indian Prime Minister Narendra Modi's ambitious plan to make India free of single-use plastics by 2022 is impractical, according to Indian food industry players.
Modi announced the scheme on 5 June, also World Environment Day, saying he would ensure all Indian states and territories banned their use by that year, starting with the capital New Delhi.
A report released by the central government's ministry of food processing industries released in November said total food and beverage consumption in India is expected to rise to US$1.14trn by 2025, from $369bn in 2017, which would dramatically increase demand for single-use plastics.
Seshu Kumar Tirumala, the national head for buying and merchandising at Supermarket Groceries Supplies termed the proposed ban "impractical" and "unheard of globally".
He told just-food: "Alternative packaging material, glass and tin, will increase the cost of products by 18 to 20% percent. Non-plastic packaging is heavy as well and will increase freight costs and the [industry's] carbon footprint."
Supermarket Groceries Supplies is the wholesale arm of Indian retailer BigBasket. Tirumala said a ban would impact sales of fresh and other short shelf-life products – using paper packing would reduce shelf life and boost food waste. "More paper means less trees as well," he asserted.
Rizwan Thakur, CEO of Chevon, a Mumbai-based company that sells frozen goat meat, told just-food Modi's plan, though noble, was impractical.
"The Indian food industry will come to a standstill if this decision is seriously implemented." He added: "In the absence of alternative packaging materials, this scheme will not work."
Frozen and chilled food sales in India is rising 12% annually, he said, arguing these foods are largely packed in plastic.
Meanwhile, Ms Nidhi Choudhary, an additional municipal commissioner in Mumbai, who is charged with reducing plastic pollution in the metropolis and would be responsible for overseeing the city's response to any national ban, conceded banning single-use plastics in the food industry would be a major challenge.
She told just-food: "Plastic carry bags and single use disposable cutlery are the two major evils of plastic pollution in Mumbai blocking the drainage system and causing flooding during monsoon."