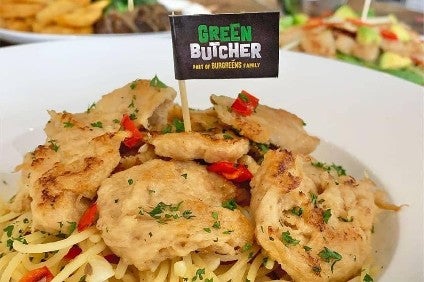 Unovis Asset Management, a New York-based investor focused on plant-based and cellular 'meats', has taken part in a seed funding round in Indonesian start-up the Green Butcher.
Green Butcher, which is located in the capital Jakarta, claims to be the first meat-alternative business in the south-east Asian country, with a portfolio encompassing animal-free Chick'n Satay, Chick'n Karaage, Beefless Chunks, Beefless Rendang, and Shroom Balls.
The company supplies foodservice outlets and independent retailers in Indonesia but will use the funds to ramp up production ahead of its launch into mainstream retail in the second quarter and to expand its R&D team.
Green Butcher was founded by Max Mandias and Helga Angelina, the co-founders of Indonesian plant-based restaurant chain Burgreens. All of its products are developed for Asian tastes.
Unovis did not disclose the amount it has contributed to the seed funding, which was also not revealed. A spokesperson for the asset manager confirmed to just-food that Teja Ventures, a venture-capital fund headquartered in Singapore, and film director James Cameron's Save Earth Fund also took part in the financing.
The New York fund is active in plant-based foods, including meat, dairy and seafood alternatives, food-tech and cellular agriculture with a host of investments to date. It previously invested in California-based Beyond Meat, although it has now exited that business.
Its portfolio includes Mosa Meat in the Netherlands, US firms Memphis Meats and Outstanding Foods, SuperMeat in Israel, New Zealand's Sunfed and Spain's Heura Foods.
Miyoko's Kitchen, a US dairy-free business, Sweden's Oatly, cell-seafood firm BlueNalu in California, and plant-based businesses Good Catch and Wicked Foods (both owned by Gathered Foods in New York) also feature in the investments.
Kim Odhner, a managing partner at Unovis overseeing Europe and Asia, said: "Green Butcher is doing important work in Indonesia and we are honoured to be able to support their ongoing growth and development in an often overlooked segment of the alternative-protein market. Unovis aims to leverage its unique experience and industry position to help launch this innovative plant-based powerhouse to a global audience."
Ms. Angelina, Green Butcher's CEO, added: "We're seeing increased interest in plant-based foods across Asia and by focusing on the unique culinary experiences of Indonesia and South-east Asia we hope to recreate many local favourites using ingredients like mushrooms, GMO-free soy, chickpea, and seitan."