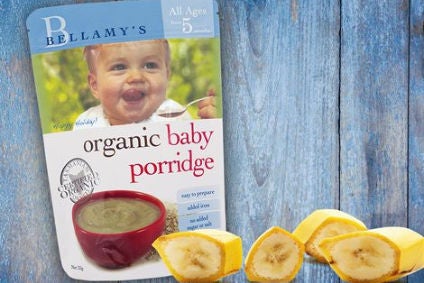 Shares in infant formula supplier Bellamy's Australia slid on Friday (2 December) after the company admitted recent regulatory changes in China were affecting its sales.
In a trading update issued on Friday, Bellamy's said it had seen "temporary volume dislocation" in Chinese sales channels that are adjusting to the new import regulations put in place by Beijing earlier this year.
The company also admitted its sales on Singles Day, the biggest retail sales day in China each year, were "below expectations" despite being "significantly stronger" than a year earlier.
Bellamy's insisted it saw "vast" opportunity in China and said it remains "positive" about the overall "long-term revenue outlook" for the business but the market reacted negatively. The company's shares tumbled more than 43% on Friday to AUD6.88.
In Bellamy's trading update, the company said its sales for the period from 1 July to 20 November were up 24% year-on-year at AUD93m, pointing to the growth it has seen in China, rising sales on Singles Day and improved distribution in Australia.
However, Bellamy's admitted its momentum had been "tempered by temporary volume dislocation in China due to regulatory changeover and the flow-on effects of restructuring the route-to-market in China … as well as by strategic investment in promotions".
In April, Beijing announced all overseas companies had to apply for new registrations if they wanted to sell through China's cross-border e-commerce channels. Companies have until the start of 2018 to apply. Bellamy's said it is "well progressed with the documentation of its documentation" but said the market was feeling the impact of the regulatory changes.
"Brands that are unlikely to gain registration are liquidating inventory at discounted prices, which impacts both imported brands such as Bellamy's and the market overall," the company said.
However, it added: "The company's premium organic offering is well-positioned for the long-term opportunities in the China market, given its leading position in toddler milk in Australia."
Bellamy's, meanwhile, said recent range reviews in Australia had "broadened" the company's presence in the country's retail channel.
Overall, the group forecast its first-half revenue would be around AUD120m (US$89.4m). The company said its second-half revenue would be "similar" to that generated in the first half "if current trends in its existing channels-to-market continue".
In Bellamy's last financial year, which ran to the end of June, the company posted revenue of AUD244.6m.
At the close of trading in Australia today, shares in Bellamy's stood at AUD6.41. The highest Bellamy's shares have reached in 2016 was AUD14.99 in August.