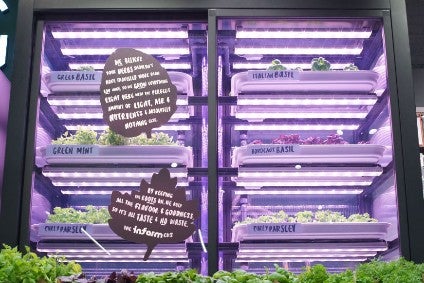 Infarm, a Germany-based vertical-farming business, has won a deal with Whole Foods Market to install its systems for freshly grown herbs in some of the US retailer's London stores as it also prepares to enter a new market in Asia.
The company is set to install two of its modular vertical-farming units in two of the London stores from 28 October – High Street Kensington and Fulham – with more outlets to follow through October and November in Piccadilly Circus, Stoke Newington, Richmond, Clapham Junction and Camden.
"These stores will be supplied with produce from a local Infarm growing centre in Tottenham, providing flexible supply as and when required," the company said in a statement. "The partnership between Infarm and Whole Foods Market aims to satisfy increasing consumer demand for sustainably-grown products with a smaller environmental footprint, helping customers to both make healthy choices and reduce their food waste."
Shoppers will be able to purchase a range of herbs including Mountain coriander, flat parsley, basil, mint, dill and Thai basil, along with fresh lettuce, Nero di Toscana – a type of kale – scarlet kale, sorrel and red stem Mizuna, part of the Brassica family and similar to rocket.
Vertical farming, also known as indoor, urban or controlled-environment farming, is an alternative to current arable methods without the need for soil or pesticides. Other benefits include less water usage and all-year-round crop production with greater yields than conventional techniques.
Infarm offered an explanation of its growing systems: "These controlled, growing environments are connected to a central cloud-based farm-brain which gathers more than 50,000 data points through a plant's lifetime, allowing the platform to learn, adapt and improve itself constantly, so that every plant grows better than the one before."
Berlin-based Infarm was founded in 2013 by Osnat Michaeli, and Erez and Guy Galonska, and is currently present in Denmark, France, Luxembourg, the UK, the US and Canada, and Switzerland, as well as Germany. It will be "launching soon" in Japan too.
Daniel Kats, Infarm's vice-president of corporate sales, said: "Whole Foods Market felt like a perfect fit for Infarm. Its commitment to providing customers with vibrant, sustainable food aligns with our goal of growing produce locally and, in the process, substantially reducing food waste and the environmental impact of what we consume. We hope that in installing our modular farms in Kensington and Fulham, we can help to educate shoppers about the future of food."
Infarm is already offering produce grown on its farms in Marks & Spencer, Selfridges in London and Farmdrop. Last month, the business raised US$170m through a Series C financing round from a consortium of investors, taking its funding to date to more than $300m.
Jade Hoai, director of purchasing and operations at Whole Foods Market, said: "We are excited to partner with Infarm to offer a truly hyper-local selection of greens and herbs across all of our London stores. Whole Foods Market customers can expect to find fresh, unique herbs from Infarm's vertical growing units like Boudreaux purple basil, that are grown locally, have no pesticides, and use a fraction of the traditional resources required to grow."