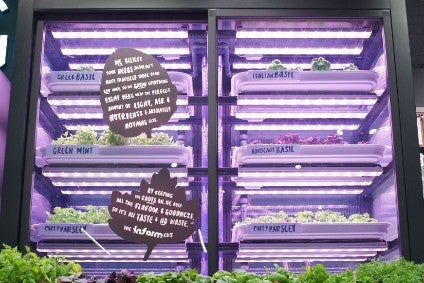 Infarm, one of the largest players in the vertical-farming sector, has formed an agreement with a subsidiary of Japanese conglomerate Sumitomo Corp. to put the German company's growing systems for "fresh produce" in supermarkets.
Summit Inc., a wholly-owned subsidiary of Sumitomo and the owner of the Summit Store supermarket chain, will start by putting Infarm's systems in its Gotanno outlet in Tokyo from the end of January. Summit operates 120 stores in the Tokyo metropolitan area.
It is the latest phase of Infarm's expansion in Japan after the company partnered with East Japan Railway Co. in February and food retailer Kinokuniya to harvest fresh produce in its store situated at Aoyama and its Nishi-Ogikubo outlet located at the JR Nishiogikubo rail station. Products will also be available from January, with more stores to follow during 2021.
Erez Galonska, one of three co-founders and the CEO of Infarm, which was created in 2013 in Berlin, said: "Japan's busy urban centres present a unique opportunity to improve the way millions of people get access to fresh, sustainable produce. We're proud to partner with Summit as we continue to grow in this dynamic market.
"Summit's commitment to offering high-quality food to customers at all price points, while reducing waste and making shopping enjoyable, aligns perfectly with Infarm's vision to make fresh nutritious food available to everyone."
Vertical farming, also know as urban or controlled environment farming, is being embraced by countries such as Singapore that have limited land mass to cultivate fresh produce such as herbs and leafy greens, with Japan another case in point.
Infarm's growing systems already feature in the US and Canada, and also across Europe, including Denmark, France, Germany, Japan, Luxembourg, the Netherlands, the UK and Switzerland.
Individual farms are connected and remotely controlled from a central farming platform that gathers information about each plant's growth. Infarm workers visit the in-store farms to harvest the crops and place them at sale points.
"We are very pleased to partner with Infarm," said Junpei Yamamoto, an executive officer of Summit. "We look forward to serving our customers with Infarm vegetables at our Gotanno store."