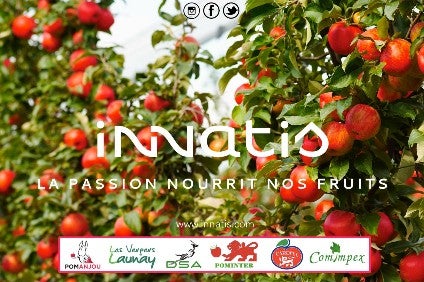 Innatis, an apple producer in France, has added other fruits to its profile with the acquisition of local company Domaine des Coteaux.
Financial terms were not disclosed in a statement from Innatis, the second-largest apple producer in France located in Ecouflant in the Loire Valley region. At the same time, Innatis said it has "opened its capital" to agri-food investor Unigrains, also based in France. A spokesperson for Unigrains confirmed the interest as a minority stake.
Founded in 1989, Domaine des Coteaux cultivates peaches, nectarines, apricots, cherries and kiwi fruit from its headquarters in Gard, southern France, and produces around 13,000 tons of fruit a year. Its CEO Nathalie Bonnet will continue in her role and will join the Innatis board.
Bonnet said: "I am delighted to team up with Innatis. We share the same values and make it a priority to produce healthy, quality fruits while being attentive to the environment. Renewal is at the heart of our common approach and this collaboration will enable us to join forces in modernising and perpetuating our crops."
Innatis was created in the 1950s and is engaged in the production, packaging and marketing of fresh apples from its orchards in the western French city of Angers. While apples is the major part of the business, the company also supplies pears, "summer fruits", oranges and kiwi.
Trading as Pomanjou Group until changing its name in 2016, Innatis generates annual sales of around EUR130m (US$159.6m).
A spokesperson confirmed Innatis supplies to countries throughout Europe such as France, the UK, Germany and Sweden but also further afield to Israel, Vietnam, Malaysia and Thailand. It also exports to Colombia, Saudi Arabia and the UAE.
It serves wholesalers as well as retailers, including Carrefour in France, Ica in Sweden and Edeka in Denmark. Domaine des Coteaux also supplies Carrefour, along with Intermache, Auchan, Casino and Aldi, but only in France.
Innatis president Marc Rauffet said: "With Unigrains, Innatis has found an ideal partner to carry out its growth projects. This ambition is perfectly illustrated by the acquisition of Domaine des Coteaux, where our pioneering spirit, our expert know-how and the particular attention we pay to nature bring us together and make this collaboration particularly meaningful."
The statement said Unigrains will act as a "financial and strategic partner", including for the potential construction of a new fruit plant in Ecouflant that would increase the company's productivity.
"Unigrains could also support Innatis in completing other external growth opportunities," the statement added.
"Beyond financial support, Unigrains will mobilise its expertise as a specialised agri-food investor to accompany Innatis in its analysis of the sector and of growth opportunities," Bruno Julla, an investment director at Unigrains, said.