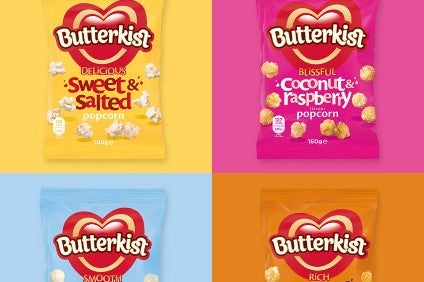 Germany's Intersnack has reached an agreement to acquire UK popcorn brand Butterkist from local group Tangerine Confectionery, it was confirmed today (17 July).
The deal, which was first reported yesterday, will see Intersnack, which already owns UK savoury snacks business KP Snacks, take ownership of Butterkist's manufacturing site in Pontefract, West Yorkshire. The 140 employees attached to the facility will become part of the KP Snacks business.

"Butterkist is an iconic brand with a 100-year heritage and the number one branded popcorn in the UK. I am delighted that we have this opportunity to add Butterkist to our existing portfolio, which includes McCoy's, Hula Hoops, Pom Bear and KP Nuts, as we seek to offer consumers and customers a comprehensive UK snacking category proposition. We look forward to welcoming our new Pontefract colleagues and the Butterkist brand to KP," Mark Thorpe, the CEO of KP Snacks, said.
KP Snacks already produces private label popcorn for UK retailers. Formerly, the group also produced popcorn under the now discontinued Phileas Fogg brand.
Financial details of the transaction were not disclosed. According to a Sky News report, the purchase price is believed to be in the tens of millions of pounds.
Tangerine, which is owned by private-equity group Blackstone, said the move was part of its strategy to focus on sugar-based confections. "We believe this announcement is good news for both parties and confirms Tangerine's focus on sugar confectionery, accelerating the development of our iconic brands Barratt, Dip Dab, Fruit Salad and building a stronger category with our customers," Anthony Francheterre, CEO of Tangerine Confectionery, explained.