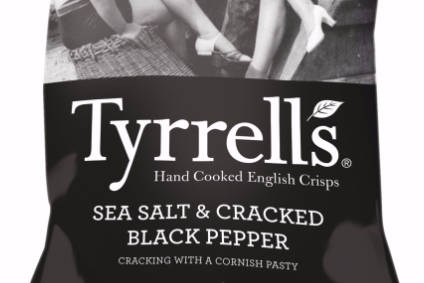 Germany's Intersnack is acquiring Hershey's UK-based crisps business Tyrrells for an undisclosed sum, with ambitions to grow sales across international markets.
The deal, struck through Intersnack's UK arm KP Snacks, will see Hershey sell Tyrrells just months after acquiring the brand through its purchase of US group Amplify Snack Brands.
Hershey said in April it was weighing up the future of Amplify's non-US operations, which included Tyrrells.
Tyrrells' businesses also include Aroma Snacks in Germany and Yarra Valley Snack Foods (YVSF) in Australia. The deal secured by Intersnack gives it access to two manufacturing plants in the UK, along with operations in the US.
Intersnack executive chairman Maarten Leerdam said the deal will help strengthen its presence in the UK and France with the Tyrrells brand, as well as give it German peer Aroma Snacks , which includes Lisa organic potato crisps.
Meanwhile, in Australia, the company will also inherit the better-for-you Thomas Chipman and Wholesome brands.
Mark Thorpe, the CEO of KP Snacks , said: "Tyrrells is an iconic brand with a big personality that has performed well both in the UK and international markets. This acquisition is a fantastic opportunity for us to add premium, hand-cooked crisps to the KP business, and a brand which further increases our capability in the sharing category.
"I am delighted that Tyrrells will be joining us to help maintain our momentum as the UK's fastest-growing scale snacks manufacturer and also enable us to continue to grow the brand across the international markets."
The deal is still subject to regulatory approval.
Located in Hertfordshire in the UK, Tyrrells also counts popcorn, tortilla chips and a range of nibbles among its snacks brands.
Managing director Malcolm Burns said of the deal: "KP Snacks offers a great long-term home for Tyrrells, Aroma and YVSF, providing a stable platform for growth over the coming years. Together, we will be able to offer our consumers and customers a total savoury snacking category portfolio."