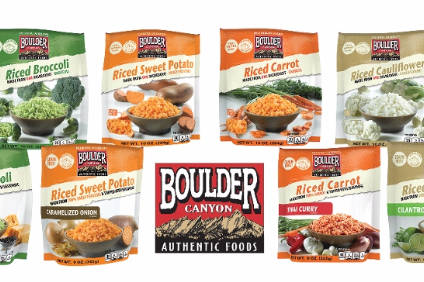 US snack company Inventure Foods is expanding its Boulder Canyon Authentic Foods brand from the snacks aisle to the freezer with the launch of a microwave-ready grain-free riced vegetable line.
Boulder Canyon Riced Vegetables represent the first time the better-for-you brand appears in the frozen section of the grocery store, Boulder said.
"True to the Boulder brand, the riced vegetables feature only real food ingredients and no cholesterol, no trans fats and no MSG," Boulder said. "Additionally, they are gluten-free, kosher and vegan… and these ready-to-eat, 100% vegetables are designed as a delicious, low-carbohydrate alternative to traditional grain rice."
Boulder's senior vice-president and general manager Steve Sklar said: "Vegetable ricing is a huge trend right now, whether it's consumers on gluten-restricted diets or simply those looking to reduce calorie and carb impact."
"We've introduced a convenient option for these consumers, and we've taken it a step further to provide seasoned and plain varieties so they have multiple options," Sklar said. "It's a delicious and healthy rice or pasta substitute, and it can be easily added to any meal."
According to Boulder, each portion "counts as a full serving of vegetables according to US Department of Agriculture guidelines".
"The best feature is the fact that there is no need to use a food processor or any other kitchen gadget in preparation of these delicious rice dishes," Boulder said. "Simply shake the bag to distribute the contents, place the bag in the microwave and heat on high for three to five minutes (depending on microwave wattage). After letting the bag cool for one minute, simply cut the bag and pour to serve."
Boulder said the new line "expands the world of traditional riced cauliflower and broccoli with sweet potato and carrot varieties as well as epicurean seasoned varieties including Cilantro Lime Cauliflower, Thai Curry Carrot, Caramelized Onion and Cheddar Cheese Broccoli". Plain varieties of Sweet Potato, Carrot, Cauliflower and Broccoli are also available.
At the start of the year, Inventure revealed margins at its flagship Boulder Canyon snack brand had been under pressure. According to the group, the primary problem facing Boulder Canyon was Inventure had run out of capacity to manufacture its kettle snacks. As a result, the company had to turn to co-pack arrangements that were costing the group around US$500,000 every month.
Inventure recently expanded its existing kettle-cooked potato chip capacity through an investment of more than $6m at its production facility in Bluffton, Indiana. The investment will allow the company to process an additional 100,000 pounds of finished product per week.