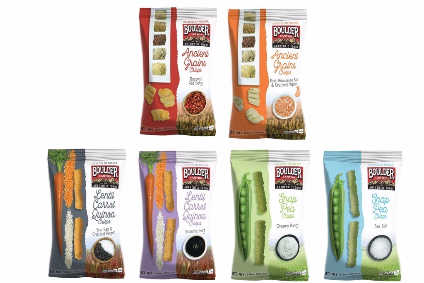 Inventure Foods is expanding its better-for-you snack brand, Boulder Canyon, with the addition of gluten-free grain-based snack crisps.
The three new products lines are made using grains such as lentils, peas, quinoa, amaranth and other ancient grains. Lentil carrot quinoa crisps come in two flavours, sea salt & cracked pepper and balsamic herb. Snap pea crisps are available sea salt and creamy ranch flavours. And ancient grains crisps include roasted red salsa and pink Himalayan salt & cracked pepper.
"The snack food aisle is an imaginative, creative space, and nowhere is that more evident than in the Boulder Canyon brand," said Steve Sklar, senior vice president and general manager for Inventure Foods.
"We've taken all these unique, on-trend, healthful ingredients and turned them into imaginative recipes that are flat out delicious. I believe it's further proof that real food ingredients taste better than processed foods could ever hope to."
Boulder Canyon snack crisps are baked, not fried. The products feature no trans fats, zero cholesterol. Each one-ounce serving contains 130 calories. The snacks are also GMO-free and gluten-free.