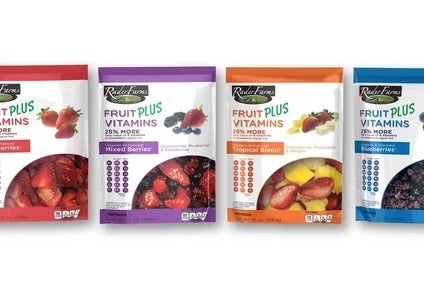 Inventure Foods has said a new range of vitamin-enhanced frozen fruit will appeal to health-conscious consumers concerned they are not getting sufficient nutrients in their diet.
The US company has launched Fruit Plus Vitamins under its Rader Farms brand, which will be hitting the shelves of nearly 3,000 US outlets this month.
The nutritionally-enhanced frozen fruit – available in varieties of blueberries, strawberries, mixed berries and a tropical blend – contain up to 25% more vitamins than conventional fruit, and carry a price premium of around 10%.
Inventure claims the process of enhancing the fruit with vitamins, which are derived from dried and ground real food ingredients such as mango, mushrooms and beets, does not affect its taste or texture, and is indistinguishable from fruit that has not been similarly enhanced.
"Fruit Plus Vitamins takes everything we love about wholesome, delicious frozen berries and makes them even better for you," said Dan Hammer, senior vice president and general manager of the frozen division at Inventure Foods. "We add nutrients from fruits and vegetables like shitake mushrooms, mangos, and other real food sources, and we do so without impacting the deliciousness of the native fruit. We believe it opens up a whole new world of possibilities for consumers who are simply looking to get more out of the foods they already love to eat."
Rader Farms' new Fruit Plus Vitamins have a suggested retail price of US$3.49-3.99 per 12-ounce package.