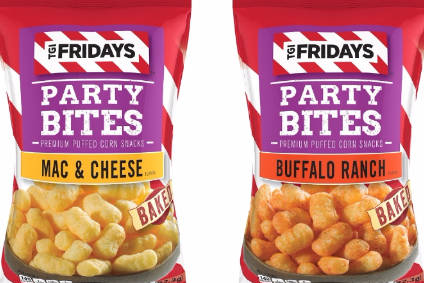 US business Inventure Foods is launching a line of snacks, TGI Fridays Party Bites.
The products, produced under licence from restaurant chain TGI Fridays, are "inspired" by "classic Fridays favourites", Inventure said. The line consists of two varieties: mac & cheese and Buffalo ranch.
"Our TGI Fridays snack line continues to be a platform for some of our most flavourful and innovative snack food concepts," said Steve Sklar, senior vice president and general manager at Inventure Foods. "These Party Bites are no exception. They are loaded with flavour and have a distinctive crunch that will make them the perfect addition to the snack lover's pantry."
The snacks are baked not fried and contain 140 calories per one-ounce serving. They are free from trans fats and cholesterol, the company noted.
Party Bites will be available in convenience and grocery stores throughout the US from this month. The products come in 2.25-ounce and 5-ounce bags with a suggested retail price of US$1.99 and $2.99.
Inventure produces a number of branded TGI Fridays products, including potato skins, mozzarella sticks, onion rings and jalapeno poppers.