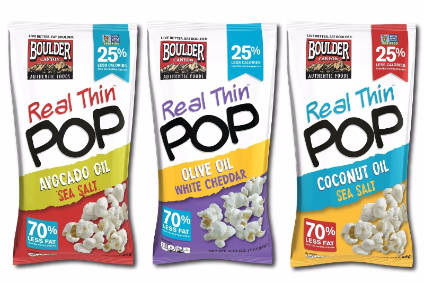 Inventure Foods, the US food group, has launched a low-calorie line of ready-to-eat popcorn under its Boulder Canyon Brand.
Real Thin Pop claims to feature "premium oils" such as avocado, olive and coconut and boast to contain 25% fewer calories and 70% less fat than leading ready-to-eat, popcorn brands. The range is free of artificial colours, flavours and preservatives.
The Real Thin Pop line features three variants: olive oil/white cheddar; avocado oil/sea salt; and coconut oil/sea salt.
"We've had tremendous success with our avocado, coconut and olive oils in our traditional kettle-cooked potato chip products, and we felt the time was right to apply those learnings to popcorn," said Steve Sklar, senior vice president and general manager for Boulder Canyon Authentic Foods. "The oils impart a uniquely satisfying flavour that is full-flavoured and indulgent, but the nutrition panel will tell you otherwise. It's a remarkable snacking experience that we believe elevates the entire popcorn category, and we owe much of that to our unique process that provides a full taste experience without all of the calories that are typically associated."
It launches at supermarkets across the US at an RSP of US$3.99 for a four-serving pack.
Click here for our report on Inventure Foods' prospects in 2016, which was published last month after the company presented at the ICR investment conference in Florida.