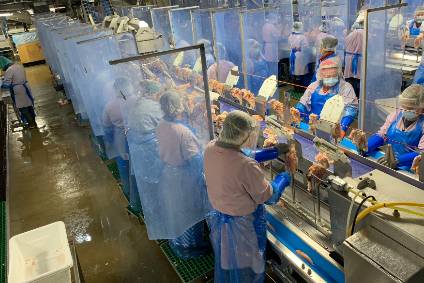 The global animal-protein industry is "vulnerable to zoonotic outbreaks and guilty of creating them", new research from an international investor group has claimed.
FAIRR, a network of global investors aiming to create awareness over environmental, social and corporate governance (ESG) issues with US$20trn in assets, has said Covid-19 is "a warning of the role modern animal production systems can play in increasing zoonotic disease risk".
The group has called on the animal-protein sector to "tackle lax safety standards for food and workers alike, closely confined animals and overused antibiotics".
In a new report, FAIRR has created a "pandemic ranking", scoring meat, seafood and dairy companies against seven factors: deforestation and biodiversity loss; antibiotics; waste and pollution; animal welfare; working conditions; food safety; and sustainable proteins.
FAIRR claimed 73% of the 60 listed meat, fish and dairy firms it scrutinised were classed as high-risk, while zero fell into the low-risk category.
Of the 44 companies deemed by FAIRR to be "high-risk", four of the companies with the worst five scores were suppliers of poultry and eggs: China's Sunner, Mexico's Industrias Bachoco, Indian business Venky's and Cal-Maine Foods of the US.
Norwegian seafood firm Mowi, formerly Marine Harvest, tops the list of medium-risk companies followed by Bakkafrost in the Faroe Islands, Norway-based Leroy Seafood, New Zealand's Fonterra and Grieg Seafood, also in Norway. Tyson Foods of the US, Cranswick in the UK and Marfrig Global Foods in Brazil also fit into the medium-risk category.
FAIRR's report, entitled 'An Industry Infected', highlights the predicament of meat processors, which globally have been one of the hardest-hit sectors from the coronavirus pandemic, with many closing plants temporarily due to positive cases and furloughing workers.
just-food has approached all the companies mentioned here for their comment, but the majority had not replied at the time of publication.
Bakkafrost said it remains committed to continuous improvement on "material issues" identified in the index.
The seafood firm said in a statement: "The consolidation of the Faroese salmon industry – from 63 farming companies in 1989 to three in 2017 – has made it easier to coordinate biological improvement, ensure effective cooperation with the authorities, and share knowledge to address risks such as disease.

"In 2019, Bakkafrost was named among the best performers in the Coller FAIRR Protein Producer Index, specifically recognised as the best-performing aquaculture company for not using antibiotics since 2004.
"Bakkafrost is committed to mitigating the risks posed by aquaculture. Production in the Faroe Islands adheres to the strict regulation, tightened controls, and segregation of farming sites and operations introduced by the unique Faroese Veterinary Model in 2003, which has had a revolutionary impact on fish health and welfare standards across the country (measurably minimising risk for salmon producers)."
The North American Meat Institute was critical of the report. Its vice president for communications, Sarah Little, said in a statement sent to just-food: "It is shameful to play-off consumer fears in a global public health crisis to advance an agenda. There is no connection between animal agriculture and Covid-19. The North American meat and poultry industry is the safest and most efficient system in the world and demand from American consumers is at an all-time high."
The British Meat Processors Association was similarly scathing of the report.
Its CEO Nick Allen commented: "In a poor attempt to disguise itself as research, the FAIRR report has been written with the objective of producing anti-meat production propaganda. It deliberately sets out to conflate a number of issues in a confusing manner to try and alarm investors."
US egg producer Cal-Maine Foods said it is set to release a sustainability report later this year.
"As the largest producer and marketer of shell eggs in the United States, Cal-Maine Foods takes seriously our position in the marketplace. We have shared our mission to be the most sustainable producer and reliable supplier of consistent, high-quality fresh shell eggs and egg products in the country. We anticipate publishing additional information and data later this month in the Cal-Maine Foods 2019 Sustainability Report, which will update the public on our progress and specific advancements in these areas. We look forward to sharing this important information with all of our stakeholders," a spokesperson for Cal-Maine said. "We are proud of our efforts and advancements in recent years to reduce the energy and resource inputs for our egg production and to improve our stewardship of land, air and water resources.
"With respect to the Covid-19 pandemic, we believe we are taking all reasonable precautions in the management of our operations in response to the outbreak. As this global health crisis continues to evolve, we are committed to taking the necessary steps to protect the health and safety of our employees, our customers and other stakeholders."
Covid-19 could be the "straw that breaks the meat industry's back", according to the FAIRR report, which notes the share prices of some of the largest meat firms have fallen more than the market.
Jeremy Coller, the founder of FAIRR, said "the results of the pandemic ranking will leave a sour aftertaste for investors in the $1.5 trillion meat, fish and dairy industry".
The data collected were based on criteria such as worker safety, food safety, deforestation and biodiversity management, animal welfare and antibiotic stewardship. It "demonstrates that intensive animal production is at serious risk of creating and spreading a future pandemic".
Coller continued: "Factory farming is both vulnerable to pandemics, and guilty of creating them. It's a self-sabotaging cycle that destroys value and risks lives. To avoid causing the next pandemic, the meat industry must tackle lax safety standards for food and workers alike, closely confined animals and overused antibiotics. This will disrupt a supply chain already cracking from fundamental land, water and emissions constraints."
FAIRR said its research should serve as a warning to the meat industry over increased scrutiny following the Covid-19 contagion with new biosecurity protocols and regulations possibly on the horizon to control any future animal-related disease outbreaks.