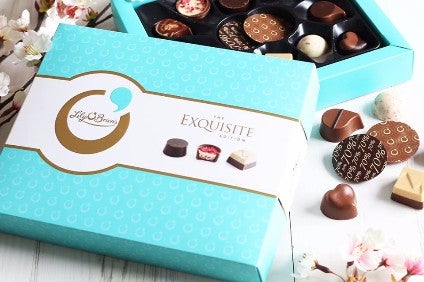 Ireland chocolate maker Lily O'Brien's has reportedly been put up for sale with a price tag "of up to EUR50m" (US$56m).
According to a report in Ireland'sThe Business Post, Dublin-based IBI Corporate Finance is said to have recently been appointed to manage the sale of the business, which is based in County Kildare.
Neither Lily O'Brien's nor IBI had responded to just-food's requests for comment about the reported sale at the time of publication.
The chocolate firm was launched in 1992 as a home-based start-up by Mary Ann O'Brien. According to the company, "with little more than two saucepans, a wooden spoon and her then toddler, Lily, acting as production manager, Mary Ann began to create high-quality chocolate recipes for friends and family".
O'Brien is still at the helm of the business she named after her daughter. Today, the chocolate maker produces a range of products including box collections, Uglies Milk Chocolate Cocoa Cookies and chocolate sharing pouches.
A spokesperson for Lily O'Brien's told just-food today (23 May) the company did not comment on "any potential deals".
The spokesperson said more than 80% of the company's "premium chocolates and desserts" sales were made internationally and the business "has been achieving double digit growth over the past number of years".
According to Nielsen MAT date as of January, the spokesperson said "in the UK market in particular, Lily O'Brien's has increased market share through growth of 31.6% in the Inlaid Boxed Chocolate Assortments Category."