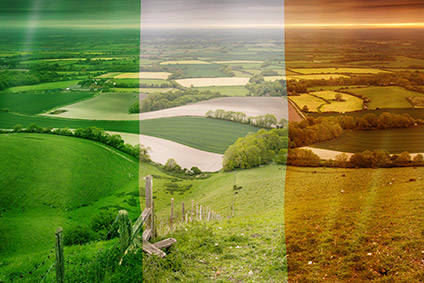 Ireland's food and drink exporters are to see a "mixed" year in 2016, Bord Bia, the government agency that promotes the industry domestically and abroad.
The value of food and drink shipments from Ireland rose to over EUR10.8bn (US$11.68bn) in 2015, up 3% year-on-year, Bord Bia figures released today (13 January) showed.
Bord Bia cited "better returns" for beef, seafood and beverages, plus favourable foreign exchange, gave a boost to exports last year.
Sales to the UK were up 7%, worth an estimated EUR4.4bn (US$4.89bn) and accounting for 41% of the value of Ireland's food and drink shipments, which totalled EUR10.83bn.
Turning to 2016, the agency said "a number of factors" meant the year would be "mixed in terms of further growth in the value of food and drink exports". It indicated there were questions over the sales of dairy, cattle and prepared food.
The pressure on global dairy markets due to higher stocks and increased output is likely to impact negatively on global milk prices for the early months of 2016. Some further growth is anticipated in Irish milk supplies. Cattle supplies are expected to recover by more than 60,000 head, which will lead to export volumes recovering by around 5%. Much will depend on demand developments in more established markets with consumer sentiment to remain a critical driver," Bord Bia said. "Prepared foods and beverages are likely to face ongoing competitive pressures although the demand for premium products will present further opportunities in key markets."
However, it added: "Further strong growth potential exists for whiskey in particular, while a number of key prepared food categories such as confectionery, ready meals and bakery are expected to record further growth."
Ireland's food and drink exports are split into ten categories, with seven showing growth in 2015. Prepared foods, the third-largest area, saw sales dip 1% to EUR1.8bn, held back by lower exports of what Bord Bia called "dairy-based enriched powders". Pigmeat sales fell 2% to EUR570m despite higher volumes as prices dropped 10% on average. The value of sales in live animals slid 20% to EUR195m.
Sales of dairy products and ingredients – the largest category – rose 4% to EUR3.24bn. Dairy accounts for 30% of the value of Ireland's food and drink exports. The rise in sales came despite an 11% rise in Irish milk supplies in the first ten months of 2015 after the removal of EU quotas on milk production in April. Russia's ongoing embargo and the slowdown in the Chinese economy also dampened prices in the sector.
Bord Bia said Ireland's higher volumes, plus increased exports of specialised dairy nutritional powders, helped Ireland's dairy sales amid "significant declines" in other categories. Export sales to the UK, which accounts for a third of sales, fell, although Ireland enjoyed higher revenues from the rest of the EU. Sales to Asia were up 13%.
Beef sales increased 6% to EUR2.41bn despite flat domestic consumption meaning there were lower volumes available for export. An 11% average rise in prices helped the value of exports.
Seafood sales were up 4% at EUR560m, as higher prices offset lower volumes. The EU accounts for over half of Ireland's seafood sales. Giving figures for the first nine months of 2015, Bord Bia said sales to each of France, Italy, Spain and the UK increased. However, revenues from seafood exports to Germany fell.