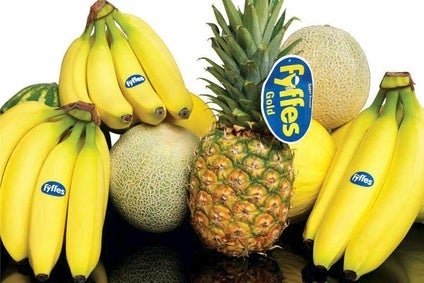 Irish fruit group Fyffes has upped its full-year earnings guidance after a "strong" first half when EBITA jumped 36.5%.
Fyffes increased its target for full-year adjusted EBITA to a range of EUR38-42m (US$50-55.3m), up from prior guidance of EUR30-35m. In fiscal 2013, Fyffes generated EBITA of EUR32.7m.
EBITA in the six months to 30 June climbed to EUR31.5m, compared to EUR23.1m in the comparable period of last year. Adjusted pre-tax profit increased to EUR31m, up 40%, the group added in a regulatory announcement this morning (27 August).
Total sales in the half rose 1.3%, climbing to EUR592.8m.
Fyffes has entered into a merger agreement with Chiquita Brands International. The proposal, announced back in March, is now facing a competing takeover bid of US$13-per-share for Chiquita from Brazilian firms Cutrale Group and Safra Group. Chiquita turned down the Cutrale-Safra bid earlier this month.
Both Fyffes and Chiquita shareholders will vote on whether to go ahead with their merger next month.
Fyffes chairman David McCann said: "Fyffes is pleased Chiquita recently rejected the unsolicited offer from the Cutrale Group and the Safra Group and reaffirmed its recommendation to its shareholders to vote to approve the definitive merger agreement between Fyffes and Chiquita… Fyffes and Chiquita remain committed to the transaction and are continuing to work together to complete the combination as expeditiously as possible."
In separate documents filed today, Fyffes and Chiquita raised their synergy targets by US$20m and revealed they now expect to deliver annualised savings of $60m by 2016.
Click here to view details of the Fyffes-Chiquita synergy plan and click here for just-food's analysis of the merger proposal.