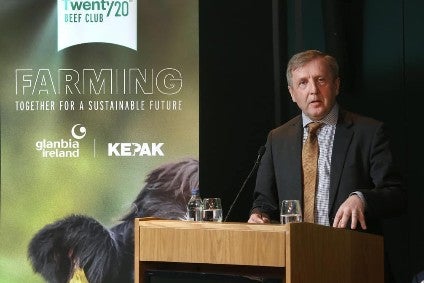 Ireland has announced a new round of funding to support the country's beef farmers amid what Dublin called the "market volatility and uncertainty arising out of Brexit".
The Irish government has set out a "beef exceptional aid measure" of EUR100m (US$111.5m), funded through assistance from the EU and from Dublin.
Michael Creed, Ireland's Minister for Agriculture, Food and the Marine, said: "I am keenly aware that the past few months have been very difficult for beef farmers. There has been a prolonged and exceptional period of depressed prices since last autumn, with the ongoing uncertainty surrounding the outcome of Brexit, among other factors, contributing to this market disturbance."
Irish farming groups welcomed the move, although there was some disappointment at a condition placed on the funding. One of the stipulations will see aid paid on adult cattle slaughtered between 24 September 2018 and 12 May 2019, subject to a maximum of 100 finished animals per herd.
"Losses for those who sold above that number during the time-frame will be significant," Edmond Phelan, president of The Irish Cattle & Sheep Farmers' Association, said. "If however the scheme is under subscribed, ICSA will be pushing to see that the maximum payment is increased accordingly."
The broader Irish Farmers Association said "substantially more" funding from Dublin and Brussels would be needed, given, the trade body said, "the increasing threat of a no-deal Brexit".
Joe Healy, the president of the IFA, said farmers "urgently need more support and a clear roadmap from Brussels and Dublin as to how they will support the agricultural sector" in the event of no deal being struck between the UK and the EU.
Healy said Irish beef farmers "are now in dire straits" with the threat of a no-deal Brexit "causing mayhem in the EU beef market", which he described as "now in crisis".
Around 50% of Ireland's beef exports go to the UK, according to data from the Irish government. In 2018, total revenues generated from Ireland's beef exports to the UK was just short of EUR2.5bn.
Today, Reuters reported UK Prime Minister Boris Johnson had told Leo Varadkhar, Ireland's Taoiseach, the UK would be leaving the EU "no matter what" on 31 October.
Johnson wants the EU to remove the so-called Irish backstop from any agreement between the UK and the EU before negotiations on a fresh stab at a deal can begin. The EU has said it has no intention of making changes to the proposed agreement, struck with Johnson's predecessor Theresa May but voted down three times by the UK's House of Commons.