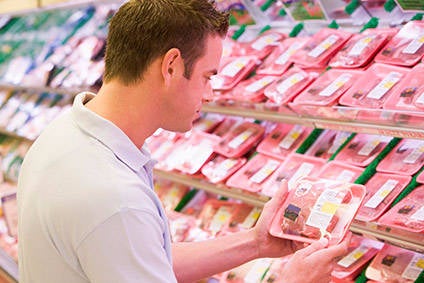 Ireland has become the latest EU member country to inform the European Commission it intends to introduce mandatory country-of-origin labels for certain meat products.
Ireland's department of agriculture, Food and the Marine said the country "intends to adopt national measures to cover mandatory origin labelling of fresh, chilled and frozen non-prepacked cuts of meat of swine, sheep, goats and poultry".
The proposed legislation will require food companies to clearly show the "country of rearing" and "country of slaughter" of the products "at either the point of presentation, point of sale or the point of supply".
The agriculture department has told the Commission companies may, where they can prove that the meat referred to "has been obtained from animals born, reared and slaughtered in one single (EU) member state or third country", indicate the "origin" of the meat accordingly.
"The national measures require that where a Fbo provides another FBO with meat, information relating to the meat is transmitted to the FBO receiving the meat in the manner prescribed in the national measures, in order to enable, when required, the provision of mandatory food information to the final consumer," the agriculture department said.
A spokesperson for the agriculture department told just-food today (10 October) that existing EU rules only make origin labelling mandatory for pre-packed products of pigmeat, sheepmeat, goat meat and poultry meat, but member states can extend the labelling rules to loose product. "To provide consistency between pre-packed and loose product, and to ensure consumers are more fully informed, Ireland has decided to extend mandatory origin labelling to non pre-packed product."
A spokesperson for the National Standards Authority of Ireland told just-food Ireland's notification to the Commission triggered a three-month "standstill period" that allows other EU states and the Commission "time to provide feedback on the regulation". After that period, Ireland will be free to adopt the regulation subject to meeting procedural requirements.
The spokesperson said: "The target date for adopting the regulation is not necessarily the end of the standstill period. However, that would be the soonest that it could be introduced."
Ireland's notification, which the Commission said it received on 6 October, follows a number of related applications by other EU states.
Last month, the European Ombudsman rejected a complaint of maladministration by the European Dairy Association against the Commission over its approval of the trial launch by France of mandatory country-of-origin labels for certain dairy and processed meat products.
The Commission is also considering a request by Portugal for the introduction of the mandatory labelling of the origin of imported dairy products sold in the country.
Portugal's bid came after the Italian government signed a legislative decree making origin labels mandatory for milk and dairy products sold in Italy. Lithuania has said it too wants to introduce the mandatory labelling of the origin of imported dairy products.