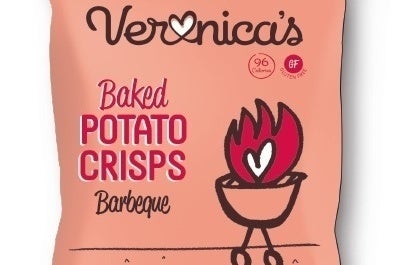 Irish gluten-free snack manufacturer Veronica's Snacks has made its UK debut.
The firm which produces baked organic crisps and veggie crisps has rolled its range out to Tesco stores across the nation.
The range includes four variants: Sour Cream, Herb & Onion baked potato crisps, Barbeque baked potato crisps, Roast Tomato and Spanish Paprika baked veggie crisps and Crunchy Creatures cheese corn snacks.
The products contain 60% less fat than regular crisps. Founder Veronica Kenneally said: "The UK is the second-largest snack market in the world and Veronica's Snacks fit nicely into the crisp aisle, providing a healthier and gluten free option for crisp fans.
"Veronica's Snacks is not just about selling healthy crisps; it is about promoting a healthy lifestyle and we strive to provide our customers with the highest quality crisps with the best ingredients."
Recommended selling price for the 23g packs is GBP0.79; for the 120g packs GBP2.19 and for the Crunchy Creatures 30g packs GBP0.89