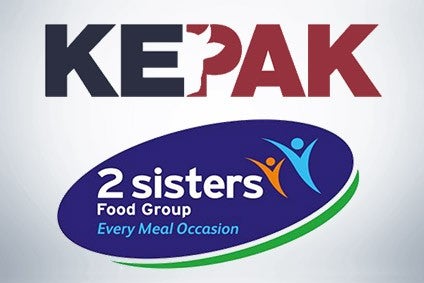 Ireland-based meat company Kepak Group has snapped up the red-meat assets of the UK's 2 Sisters Food Group .
Kepak has bought five facilities across the UK for an undisclosed sum in a deal that marks the latest disposal by 2 Sisters parent company Boparan Holdings.
The transaction will see three sites in Cornwall in south-west England change hands, as well as one in Merthyr Tydfil in southern Wales and another in Portlethen in north-east Scotland.
Kepak described the deal as a "strategic growth acquisition". It said the move would be a hedge against Brexit and currency fluctuations, as well as support its "meat-based, value-added businesses".
John Horgan, Kepak's managing director, said the acquisition "significantly increases the value and scale of our business".
He added: "Kepak has a clear strategy to grow its meat and food businesses in partnership with key customers and in markets that are complementary to our existing businesses in Ireland and in the UK. The acquisition of this red-meat business, with its very solid UK retail, foodservice and manufacturing relationships, marks a very significant next step in delivering on our strategy. It is a great fit for Kepak."
2 Sisters acquired the assets four years ago from Netherlands-based Vion Food Group.
"We have had approaches over the past four years for our Red Meat operations, and we have been talking to several interested parties during this period," Boparan founder, owner and president Ranjit Singh Boparan said. "But as we always make clear, any sale has to be at the right time with the right buyer and it had to be a deal that fitted with our long-term strategy. This deal represents another major step in transforming 2 Sisters and building a better business."
The sale of the 2 Sisters red-meat business is the second carried out by Boparan Holdings in 2018. In January, the company struck a deal to offload a clutch of pizza assets – including the Goodfella's and San Marco brands – to UK-based frozen-foods manufacturer Nomad Foods.
A month later, Mr Boparan announced he would leave his position as 2 Sisters CEO and move to president of Boparan Holdings. Since Mr Boparan's move was announced in February, the company has said one of his focuses would be to reduce debts at the business.
There has also been speculation over the future of two other assets – UK pie maker Holland's Pies and Irish seafood unit Donegal Catch.
Former Unternehmensgruppe Theo Müller CEO Ronald Kers replaced Mr Boparan as 2 Sisters CEO in June.
just-food analysis from May 2018: What are the options for incoming 2 Sisters CEO Ronald Kers?