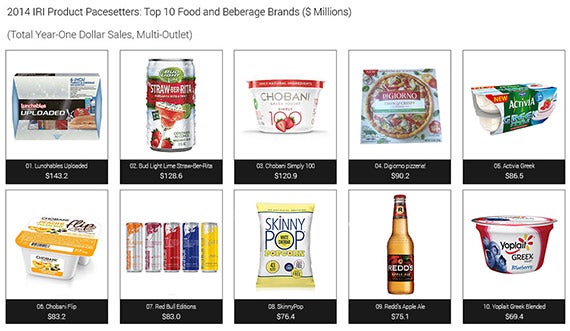 Kraft Foods Lunchables Uploaded has topped IRI's poll of the top NPD launches in the US during 2014.
IRI measures the best-selling launches each year. The poll looks at sales of products in their first year at grocery, drug, mass market retailers, dollar and club stores, plus, for the first time, Wal-Mart outlets.
The top ten new products are listed below. Second on the list was Anheuser-Busch's Bud Light Lime Straw-Ber-Rita, followed by Chobani's Simply 100 Greek yoghurt.
Greek yoghurt, which featured strongly in the 2013 poll, continued to prove popular with four entries in the top ten for 2014. Danone's Activia Greek was at number five, followed by Chobani Flip at six and General Mills' Yoplait Greek Blended at ten.
Nestle's Digiorno Pizzeria also featured on the list, as did better-for-you popcorn brand Skinnypop, demonstrating a growing interest for "quick, easy and portable" foods.