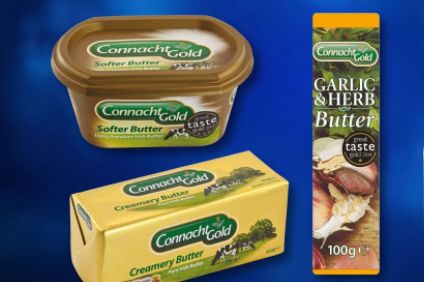 Ireland-based agri-food cooperative Aurivo has announced a EUR48m (US$54.7m), five year investment programme.
The County Sligo business, the owner of brands including Connacht Gold butter and For Goodness Shakes protein drinks, said the investment will allow it to increase milk processing capacity by 25%, to 500m litres annually by 2022, and to increase dairy ingredients capacity by 50%.
The expansion programme incorporates a range of projects across its dairy ingredients, consumer foods and agri businesses and will grow employment across the cooperative between now and the end of 2022.
The investment has been supported by Ireland's Department of Business, Enterprise and Innovation through Enterprise Ireland.
Central to the expansion programme is an extensive upgrade of Aurivo's dairy ingredients facility in Ballaghaderreen which is already under way.
Aaron Forde, CEO of Aurivo said: "Our strategic focus and the supporting investment programme aims to ensure that Aurivo will continue to grow the business over the coming five years and in doing so we will effectively leverage international market growth potential for the business.
"With our enhanced facilities, Aurivo will compete strongly in serving our existing customers and will also enable us to access new international markets. This is all about working to achieve our vision to outperform our peers by becoming leaders in our chosen markets, regionally nationally and internationally.
"One of our key strategic targets is to grow by 25% from a 400m litre milk business to a 500 million one by 2022. That is well within our grasp and our organic growth plans for the business."