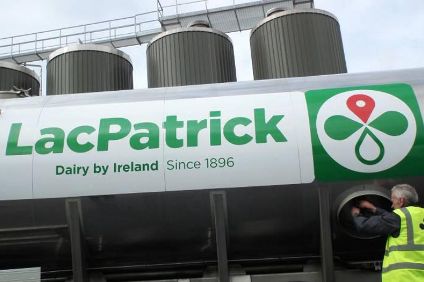 The boards of Ireland's LacPatrick Dairies and local peer Lakeland Dairies have agreed to enter into exclusive discussions regarding a merger of the two societies.
The companies confirmed the news on their websites and added if an agreement is reached it will need to be ratified by shareholders – possibly in September – and cleared by regulators.
County Monaghan-based LacPatrick announced in April it would be interested in pursuing "a number of strategic options".
A number of co-ops – including Dale Farm and Glanbia – were linked with a potential deal with the dairy group, alongside County Cavan-based Lakeland.
In mid-May, LacPatrick sent out the details of the business to potential bidders.
LacPatrick is an independent co-operative still owned by local farmers.
Lakeland operates across 15 counties in both Ireland and Northern Ireland. It is Ireland's second-largest dairy co-operative, processing roughly 1.2bn litres of milk annually.
In 2015 Lakeland acquired Taste Trends, a UK's frozen yogurt producer, and bought the milk business of Northern Ireland agri-food co-op Fane Valley.