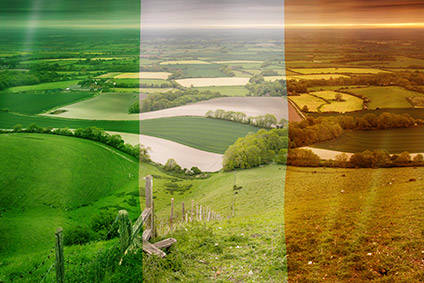 Ireland's food and drink exporters enjoyed another unprecedented year in 2017, despite the uncertainty generated by Britain's vote to leave the European Union.
Overseas shipments rose 13% to a "record" EUR12.6bn (US$15.2bn), with the country's top export category of dairy leading the charge, seeing its revenues climbing 19% to more than EUR4bn, according to figures from the Irish state agency Bord Bia.
In the wake of Brexit, Ireland's government urged exporters to diversify geographically on concern demand for the nation's products in the UK would wane as weakness in sterling threatened to drive up import costs in its biggest international market.
That said, Ireland's exports to the UK still increased 7% last year to EUR4.5bn, although the destination's share of total shipments slipped to 35% from 37%, Bord Bia reported.
However, Bord Bia chief executive Tara McCarthy warned against complacency.
"Sterling volatility, combined with slower economic growth, food inflation and lower wage forecasts, will put further pressure on the UK market as an export destination," McCarthy said. "While the UK remains our most important market, these prospects provide an additional incentive for Irish exporters to explore new markets within the EU-26 and beyond."
Michael Creed, Ireland's minister for agriculture, food and marine, said in response to the figures: "I am pleased the significant additional resources provided by my department to Bord Bia as a key part of our Brexit response has helped to support Irish food and drink company's export performance in 2017, as evidenced by these results, and will continue to do so into the future."
Last year, Ireland's beef exports rose 5% to EUR2.5bn while consignments of prepared foods climbed 17% to EUR2.2bn. Those products stand second and third, respectively, in terms of export categories after dairy, with beverages ranked fourth. Shipments of the latter increased 8% to EUR1.5bn in 2017.
Exports to the EU – excluding the UK – climbed 16% to more than EUR4bn, led by a 40% increase in dairy to EUR1.2bn. Overseas sales to other "international" markets climbed 17%, and also reached EUR4bn, led by dairy products into North America, Africa and Asia. Shipments to China were up 5% at EUR700m.
Looking ahead to 2018, Bord Bia CEO McCarthy spoke with cautious undertones.
"While Brexit remains the great unknown, we still expect 2018 to be another year of growth, albeit at lower levels," she said. "Our key export categories, dairy and beef, remain stable with further volume growth anticipated. This, coupled with the significant opportunities evident in beverages, in particular Irish whiskey, provide further reasoning for the positive outlook."