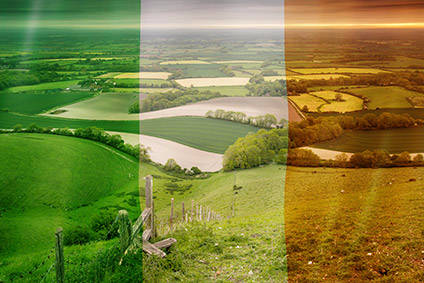 Irish agri-food and drink exports exceeded EUR11bn (US$11.7bn) for the first time in 2016, although the UK's vote for Brexit cut the value of trade by a potential EUR570m, according to latest figures released by Bord Bia, the Irish Food Board.
The value of Irish food and drink exports grew 2% last year to EUR11.15bn. However, what Bord Bia called the "underlying weakness and volatility of sterling" after the Brexit vote weighed on exports to Ireland's largest market.
Michael Creed, Ireland's Minister for Agriculture, Food and the Marine, said: "2016 marked the seventh successive year of growth of Irish food and drink exports. One of the notable features of this achievement is the impact of market diversification in the year in which the UK decided to leave the European Union. While trade with the UK fell by 8%, triggered by challenging exchange rates, uncertainty arising from Brexit and further competitive pressures, this was offset by increased exports to international and emerging markets such as North America (up EUR200m to reach EUR1.1bn), China (up 35% to reach EUR845m) and the rest of Asia (up 6% to reach EUR330m)."
Creed said Ireland achieved a "particularly remarkable" overall increase of 13% in shipments to international markets, to reach a value of approximately EUR3.5bn.
According to the figures, the strongest performing sectors last year were prepared foods, which saw exports rise 9% to EUR1.92bn, beverages – up 4% at EUR1.4bn – and dairy product and ingredients, which reported a 2% increase to EUR3.38bn.
On the vote for Brexit, Creed said for Ireland, the only EU member state that shares a land border with the UK, the move "highlighted the importance of market access, of identifying market opportunities for value-added products and of continued investment in innovation and competitiveness".
Creed added: "The UK will continue to be a critically important market for Irish agri-food products. The triggering of Article 50 and the continued uncertainty around Brexit will present significant challenges for the sector. However, the 2016 export figures illustrate clearly the importance of collaborative action by government, its agencies and the industry, and the potential for pro-active effort on international markets to mitigate the risks associated with these challenges."
According to Bord Bia, despite higher volumes, the value of cheese exports declined by around 4% in 2016 to EUR675m. "The UK accounted for over 50% of cheese exports and trade into that market is estimated to have shown a double-digit decline due to unfavourable exchange rates," the report said.
Last year, Creed called for the EU to adopt a "flexible" approach to any dairy aid package, insisting currency uncertainty in the wake of Brexit and the country's "unique" trading relationship with the UK should be taken into account.