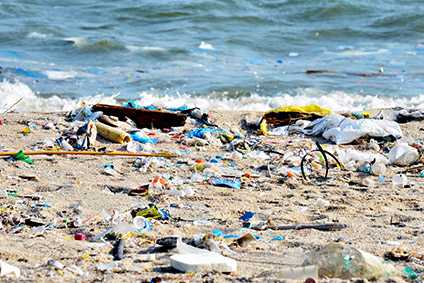 Plastics Action Alliance, a newly-formed collaboration between 11 Irish food companies, has laid down specific targets to eliminate single-use plastics.
The alliance was set up late last year and is headed by Aidan Cotter, the former chief executive of Bord Bia, the Dublin-based Irish food board. Included in the environmental action group are meat processor ABP Food, Ireland's largest chicken processor, Carton Brothers-owned Manor Farm, major sheep meat processor Irish Country Meats, and the country's biggest pork producer Rosderra Meats.
At the forefront of its philosophy, Plastics Action Alliance (PAA) aims to "reduce both the use and quantity of plastic packaging without compromising on quality, shelf life and consumer experience" throughout the food chain of its constituent members.
It now targets to eliminate single-use plastics by the end of 2020, along with an aim not to use PVC in packaging if there is a viable alternative, and to no longer send packaging waste to landfill sites by the end of the decade.
In the longer term, PAA will seek to ensure all plastic packaging will be reusable, recyclable or compostable by 2025.
Cotter, who is the independent chairman of the group, said: "It is important to demonstrate that we have a real and binding commitment to the reduction of the use of plastic across our member companies, who are leaders in their respective fields in Ireland. The objects we have set are a tangible demonstration that the Alliance intends to take meaningful action with the introduction of further sustainable processes across their businesses. Some of the objectives we have set are ambitious, but we are confident that they will be met."
More and more global food and drinks companies are stepping up efforts to cut the use of plastics in their supply and manufacturing networks, particularly now that media channels and environmental groups are increasingly highlighting the damage caused to the planet.
Other targets announced by PAA today (17 April) include ensuring a "30% average recycled content across all plastic packaging by the end of 2025; to proactively search for new materials from renewable sources; redesign packaging to reduce the amount of plastic in each pack; eliminate problematic or unnecessary single-use plastic packaging through improved design, innovation or alternative renewable options by 2025; and use cardboard packaging that is certified PEFC (Programme for the Endorsement) or FSC (Forest Stewardship Council) by the end of 2020".
Making up the rest of the PAA line-up are dairy firms Aurivo and Bandon Co-op, fruit producer Keelings, Monaghan Mushrooms, vegetables and prepared meals business Country Crest/Ballymaguire Foods and salad maker Nature's Best. Pet food company C&D Foods also features.