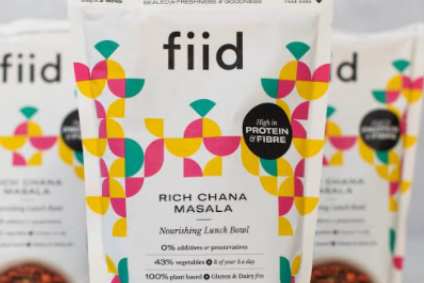 Fiid, an Irish plant-based food business specialising in shelf-stable products, has set its sights on winning market share in the UK.
The Dublin business, set up in late 2018, has made inroads in its domestic market where it is stocked in 800 outlets, including the stores of the country's largest grocers.
But it now eyeing the larger market just across the Irish Sea.
Fiid has hired a field sales agent in the UK to help it achieve its ambition of gaining listings with the multiples.
Originally called Feed, before selecting a more search engine-friendly name, the business was set up by Shane Ryan, whose background is in the hospitality sector.
"The UK is a big part of our growth strategy because of its size and the appetite there of plant-based food," Ryan said.
"We are dipping our toes there now but I don't want us to jump at it until we know we can work to scale."
So far, Fiid sells products – which include Lentil & Sweet Potato Curry, Hearty Chickpea Tagine and Rich Sundried Tomato & Lentil Ragu – through online grocer Ocado and e-commerce giant Amazon.
Because of forward planning, Fiid has been able to avoid the hold-ups at customs experienced by many UK and Irish food businesses since the new post-Brexit trading regime came into effect on 1 January.
"We planned for the worst. We filled a UK warehouse with four or five months' worth of stock in November," Ryan said.
"We are a small business so funding that stock was a challenge for us.
"But our ambient products have a shelf life of 18 months and that's our golden ticket at a time like this."
Fiid, which also sells its products in the UAE, saw its sales rise by 79% last year, on a year-on-year basis. as consumers stocked up on pantry products during the Covid lockdown.
The company has recently added a new Indian flavour to its range in the shape of Rich Chana Masala.