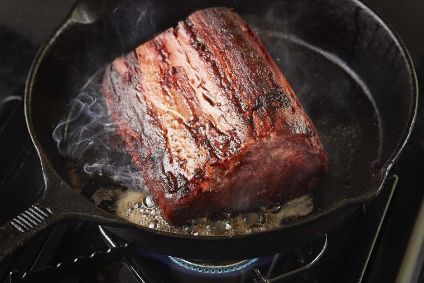 Redefine Meat, an alt-protein business based in Israel using 3D technology, has signed a distribution deal following a blind taste-testing exercise.
The firm has inked an agreement with locally-based distributor Best Meister to commercialise its products in the first half of this year.
Redefine Meats has developed 3D plant-based 'meat' and is backed by, amongst others, Germany's largest poultry company PHW-Gruppe.
It recently held a blind tasting of its products, including its Alt-Steaks, during which 600 people bought almost 1,000 of its dishes from a food truck, which sold out within five hours.
Redefine Meat's said the bulk of buyers thought its products were indistinguishable from animal meat and it recorded a 90% acceptance rate.
Best Meister will now target Israeli restaurants and high-end butchers in its attempt to distribute the products.
Eshchar Ben-Shitrit, CEO and co-founder of Redefine Meat, said: "We believe alt-meat should taste as good as animal meat - simple as that. Redefine Meat has achieved that with every product it has put to the test."
Ori Zaguri, Best Meister CEO, said: "We've been excited by Redefine Meat's unique alternative meat offering for a while, but the food truck event cemented it for us. Not only was consumer feedback overwhelmingly positive but Redefine Meat's technology will also provide us the scale to create a wide-variety of quality meat cuts for our customers on-demand from one single source.
"We believe the mass meat-eater market is ready for alternative meat of this quality and we are excited to be the first to deliver it to them."
In July 2019, Redefine Meat unveiled its first Alt-Steak products using industrial digital manufacturing of plant-based ingredients.