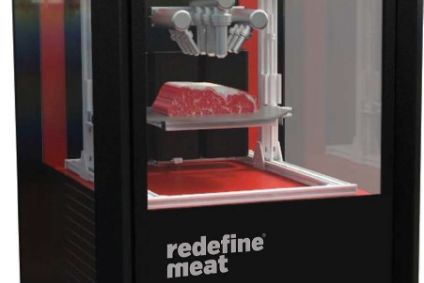 Germany's largest poultry company PHW-Gruppe has joined a US$6m funding round for Israel's Redefine Meats, a start-up that has developed 3D plant-based 'meat' printing technology.
The funding round was led by London-based investment firm CPT Capital and also joined by Israel-based Hanaco Ventures and Israeli angel investors.
Redefine Meat said it will use the investment to finalise the development of its "revolutionary alternative-meat 3D printer", which is set to be launched next year. The business was founded in 2018 and intends to use 3D printing to produce alternative meat products.
The company is developing a solution that "combines a proprietary semi-industrial 3D digital printing platform – in fact, one of the world's fastest 3D printers – a 3D meat modelling system and plant-based food formulations".
Peter Wesjohann, CEO of PHW-Gruppe, said: "There is currently no other company that has demonstrated such an impressive development in the field of 3D printed meat. The PHW Gruppe sees Redefine Meat as a strategic investment, especially regarding the future product development for the European market and our broad distribution network."
Costa Yiannoulis, the CPT Capital investment director and a new director of the Redefine Meat board, said: "Redefine Meat is a great fit with our portfolio of companies that are working to replace animals in the food supply chain.
"We are excited to partner with a company that leverages decades of digital printing experience to offer a fresh look at the way that meat will be produced. From very early on, it was clear that their unique approach has tremendous merits and has already produced some of the highest quality alternative meat products that we have ever encountered."
CPT Capital is the investment arm of the family office of UK businessman Jeremy Coller, which has also backed companies like Beyond Meat and seafood-alternative business Good Catch.
Redefine Meat said its animal-free meat comprises natural and sustainable ingredients that deliver the same appearance, texture and flavour of animal meat used for steaks, roasts and stews.
"The breakthrough technology will also enable meat distributors and retailers to design the characteristics of their meat to cater for seasonality, changing demands and consumers preferences with 'printed meat' that is 100% predictable and replicable," it said.
Eshchar Ben-Shitrit, co-founder and CEO of Redefine Meat, said: "Our goal is not just to develop a new food product, but to introduce a new technology for developing, producing and scaling alt-meat products.
"We have already successfully printed great products for multiple foodie events, and over the coming 12 months, we will take the technology to the next level where we expect to make a huge impact on the meat market and the future of our planet."
CPT Capital has invested previously in the alternative protein space, backing lab-based protein company Memphis Meats and plant-based burger company Beyond Meat, amongst others.
See just-food's analysis – Eyeing alternatives – meat companies with stakes in meat-free