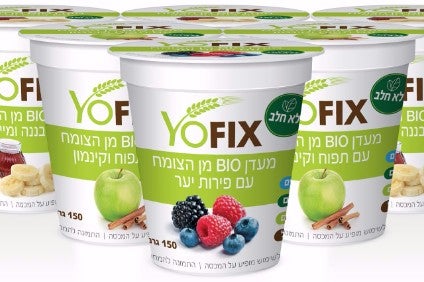 Israeli food start-up Yofix Probiotics has secured US$2m in funding to help the plant-based yogurt maker expand its business.
The Series A round of financing was led by Israel food and drinks maker Strauss Group and included private investors from the US, the UK and Israel, the company said in a statement. The funding adds to the so-called seed investment it received from Israel's The Kitchen Hub, a food tech incubator also owned by Strauss Group and backed by the Israel Innovation Authority.
Yofix uses grains, cereals, seeds and lentils to make its dairy- and soy-free yogurts, which are high in calcium, proteins and dietary fibres. They have no added sugars, preservatives or stabilisers. The company employs a zero-waste manufacturing technique, which minimises the environmental impact.
The company's first product was a plant-based yogurt that will be followed by yogurt drinks, deserts, frozen yogurt and ice cream.
"We were fortunate to be accepted to The Kitchen and to receive mentorship, coaching and support," said CEO Ronen Lavee. "With the investment and support from Strauss Health, we will launch our product nationwide in Israel, follow up with a line of new products and start international marketing."
Jonathan Berger, CEO of The Kitchen Hub, said: "We strive to offer sustainable products and technologies to the market and to create positive outcomes, both for the consumer and the environment. Working with the brilliant team at Yofix has validated our mission to help companies that develop cutting-edge technologies and bring value across the entire food chain."