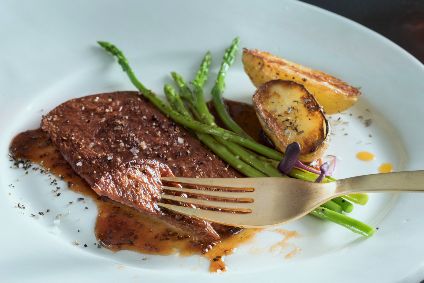 Aleph Farms, a cell-cultured meat start-up in Israel, said it has come up with a prototype for its first beef product, which has been "grown directly from non-GMO cells of a living cow".
The beef steaks will be unveiled at an agri-food innovation summit in Singapore this week as Aleph Farms enters the initial construction phase of its BioFarm plant ahead of commercialisation, with a planned pilot launch targeted for the end of next year.
"The company has developed five proprietary modules for its unique mass production platform, set to bring the product to cost parity with conventional meat at scale," Aleph Farms, founded in 2017, said in a statement.
Co-founder and CEO Didier Toubia said: "One of the big challenges of cultivated meat is the ability to produce large quantities efficiently at a cost that can compete with conventional meat-industry pricing, without compromising on quality. We have developed five technological building blocks unique to Aleph Farms that are put into a large-scale production process, all patented by the company."
Aleph Farms said the beef steaks mimic traditional meat products in terms of the nutrition profile, texture, taste, and how they perform during the cooking process. The cell-cultured steaks "use a fraction of the resources required for raising an entire animal for meat, and without antibiotics".
It offered a description of the manufacturing process: "To successfully grow whole pieces of meat, compared to minced meat, the company mimics the extra-cellular matrix found in animals with a plant-based matrix that enables the cells to grow and form structured tissues of meat. Its 'cell-banks' yield an unlimited source of pluripotent, non-GMO cow cells' for growing large quantities of meat without the dependency on living animals."
Toubia founded Aleph Farms with the Israeli innovation programme The Kitchen Hub run by the Strauss Group, a local food manufacturer of dairy products, snacks and dips, along with Shulamit Levenberg, a professor at research university Technion – Israel Institute of Technology.
The company has received backing from a number of investors, including Strauss and US agri-food giant Cargill, which both contributed to a US$12m Series A investment round last year.
Read just-food's analysis – A question of scale – the growing pains of cell-based meat