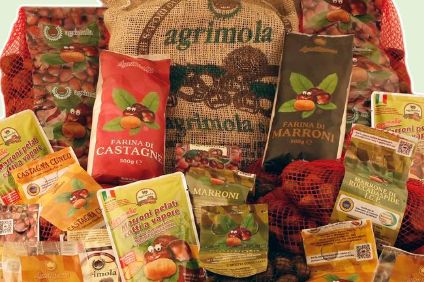 Agrimola, the Italy-based chestnut supplier, has sold a stake to local investment fund Fondo Agroalimentare Italiano I, which is controlled by French agri-foods investment firm Unigrains.
It said the move will accelerate its development and help it seize "organic and external growth opportunities in Italy and abroad".
Agrimola, based in Caslalfiumenese, near Bologna, supplies chestnuts to retailers, which are often sold on an own-label basis, and also sells to food manufacturers which use its products as an ingredient in marmalades, desserts, ice creams and other dairy produce.
Fondo Agroalimentare Italiano I has taken a stake in the business alongside CEO and majority shareholder Luca Sassi. Details of the size of the stake and the financial sum involved have not been disclosed.
Founded in 1978, Agrimola handles about 40,000 tons of fruits, half of which are chestnuts, each year, and generates sales of over EUR36m (US$42m), 40% of which are through exports.
Agrimola said Fondo Agroalimentare Italiano I will support the company's development through expanding relationships with existing clients, notably in B2B and in international markets, and through the development of new, value-added products such as jams, layered fruit yogurts and baby food.
CEO Sassi said: "Dedicated to our sector, with a deep understanding of our industry and objectives, FAI I is a natural partner for accelerating Agrimola's development.
"Their expertise and networks, as well as the support and international scope of Unigrains, will be invaluable in helping us seize organic and external growth opportunities both in Italy and abroad."
Francesco Orazi, director of Fondo Agroalimentare Italiano I, added: "The growth trend towards healthy foods and clean labels is driving the addition of more fruits into more recipes. The combination of excellent sourcing capabilities with the highest quality industrial processes enables Agrimola to respond to increasing client demand for organic, traceable and high-quality products."