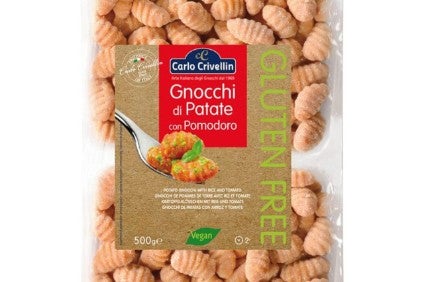 Italy's Bertoncello, a gnocchi producer owned by local private-equity firm Alcedo, has acquired Carlo Crivellin, another business in the same category but with a presence in fresh pasta.
The terms of the deal, conducted through the Alcedo IV fund, for family-run Carlo Crivellin were not disclosed in a statement. Based in San Martino di Venezze, Rovigo province, the company was founded in 1969 as a polenta manufacturer before expanding into gnocchi and pasta, where it offers the regular variety and also gluten-free to local retailers.
Carlo Crivellin generated a turnover of EUR5m (US$5.9m) last year, with 60% of that coming from exports. It employs 15 people. Bertoncello, which was taken over by Alcedo in July 2020, said the combined turnover of the two companies is now around EUR25m.
A Bertoncello spokesperson told just-food the two companies supply retail and foodservice customers, as well as manufacturers across Europe, and also the US, Australia and Chile.
Fabian Bertoncello, the president and CEO of the acquiring company, said: "Crivellin represents the perfect complement for our company, both for product range and for geographical distribution. The acquisition allows us to consolidate our presence in the market of gnocchi and quality fresh pasta."
Family-run Bertoncello is based in the city of Romano d'Ezzelino in the Veneto region of north-east Italy. The company was established in 1999 and 70% of its turnover comes from gnocchi and the rest from blended flours. It supplies the horeca and retail channels, including among the large grocers Auchan, Carrefour, Lidl, the Co-op and Conad.