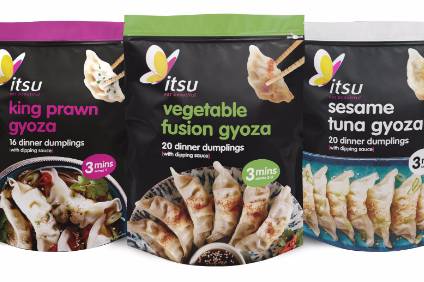 UK-based Asian foods maker Itsu Grocery is making its debut in the country's frozen food aisle with the launch of gyoza dumplings.
The Asian-inspired filled soft pastry parcels will go on sale this month at Tesco and Waitrose stores in three variants – Vegetable Fusion, King Prawn and Sesame Tuna.
Itsu said the move into the frozen food market follows on from the launch of its dumplings in Itsu shops and follows "18 months of research and development" including visits to South Korea.
The dumplings can be cooked in three to six minutes by microwave, boiling, pan cooking or steaming.
Itsu founder and creative director Julian Metcalfe said: "We have always set about being pioneers and so are leading the way by bringing restaurant-quality, authentic dumplings to consumers' freezers. We hope these products make people re-think frozen food in the UK as they are of incredible quality, unbelievably easy to make, convenient and so delicious."
The company said the dumplings are "under 258 calories per portion of eight gyoza and contain absolutely no MSG, artificial flavours or preservatives and come in a re-sealable bag with complementary dipping sauces". They go on sale at an RRP of GBP3.50 (US$4.32).
Itsu was formed in 2015 when UK snacks maker Metcalfe's Food Co. divided in two to support what its owners said was the "fast growth" of the company's two flagship brands. Itsu focuses on Metcalfe's range of Asian food products while Metcalfe's Skinny sells the group's line of snacks.
Last September, US snack maker Snyder's-Lance acquired full ownership of privately-controlled UK popcorn firm Metcalfe's Skinny.