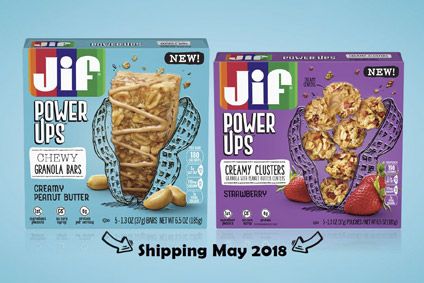 US food group J.M. Smucker has downgraded its guidance on key fiscal year 2020 metrics following the release of its first-quarter results.
The Ohio business – behind brands such as Jif peanut butter and Sahale snacks – is now expecting net sales for the fiscal year, which began in May, to be down by 1% or, at best, flat. Its previous estimate, provided by chief financial officer Mark Belgya at the CAGNY conference in February, was that sales would increase by 1% to 2%.
Similarly, Smucker's new adjusted earnings per share guidance for fiscal year 2020 is US$8.35 – $8.55, whereas previously the forecast, again provided at CAGNY, was between $8.45 and $8.65.
Smucker's new sales forecast reflects "the loss of $105.9m of sales in the first four months of fiscal 2019 related to the divested US baking business and $25.4m of incremental non-comparable sales for [dog nutrition firm] Ainsworth," it said.
The new guidance was provided as the company released its first-quarter results, which revealed net sales decreased by $123.6m, or 6% to $1.78bn, on a year-on-year basis.
Operating income was up by 14% to $257.6m and net income was up by 16% to $154.6m but CEO Mark Smucker expressed disappointment at the results overall.
"Our first-quarter performance fell short of our expectations, primarily due to the timing of shipments and deflationary pricing in the coffee and peanut butter categories, as well as competitive activity in the premium dog food category," he said.
"We have continued momentum in many key product categories, and we are already taking decisive actions and prioritising initiatives that strengthen our business. We remain confident in our strategy, which includes a continued focus on our growth imperatives to lead in the best categories, build brands consumers love, and be everywhere, combined with a relentless focus on operating with financial discipline, all of which will enhance shareholder value for the long term."
The company said its results reflect the contribution of the Ainsworth Pet Nutrition business it acquired but also the divestiture of Smucker's baking business, which was sold to private-equity firm Brynwood Partners for $375m last summer.
Reflecting on the results, John Baumgartner, a senior analyst with Wells Fargo, said: "As deflation pressures key categories (coffee, peanut butter) and increased competition impacts premium dog food, it's hard to find silver linings."