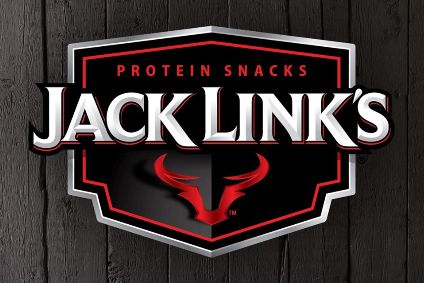 Jack Link's, the US-based meat-snacks supplier, is set to embark on a marketing offensive in the UK.
The privately-owned business plans to step up its investment in marketing in a bid to increase consumer awareness of jerky and biltong in a country where the company believes sales of the products can grow further.
"Consumers need to be communicated to, they need to understand a little bit more about jerky and biltong," Dave Harriman , regional sales director for Jack Link's in the UK, Ireland and the Nordic markets, said." The penetration of the category [in the UK] is only about 5% and it should be a lot higher than that because of all the trends we're seeing for higher-protein products, lower-sugar products."
Jack Link's plans to spend GBP1m (US$1.3m) on marketing the range of products – including beef jerky and the less well-known biltong – sold under its namesake brand, an investment Harriman said is "basically triple" what the company has spent on previous campaigns in the UK.
Speaking to just-food, Harriman said the spending was "a statement of intent" from Jack Link's in the UK.
"It's certainly not a situation where our sales growth is slowing. Our sales growth has been pretty awesome actually over the last few years and will grow a similar amount from a percentage perspective this year. Over the last 12 months, we grew by around about 75%," he told just-food at the IFE trade show. "His category has a lot of opportunities but we need to educate consumers. The more we can do that, the faster the category will grow and the retailers will benefit as a result."
The investment in marketing is to follow changes that have been made to the recipe for the Jack Link's jerky sold in the UK. Jack Link's has developed a "juicier" beef jerky for the UK market, which is set to roll out to customers in the country. "Consumers say to us they've tried jerky but it's been a bit tough," Harriman said.
Beef jerky remains the flagship product of Jack Link's in the UK. The company extended its range in the country with the launch of biltong last year. "It's been a great success where it's listed. We just need more distribution," Harriman said. "That's the biggest job we've got now, to back up the great distribution we've got in Asda and convenience stores with the distribution in the other multiple, major accounts."
However, there are, at present, no plans to launch salmon jerky, a move that has been made by others in the UK.
"Our view from a marketplace perspective, is, whenever you go outside beef as a protein, the sales of those products tend to be a lot lower," Harriman said. "There is a lot of the population who aren't really aware of jerky and when to eat it – and, as soon as you put a protein in there that's not beef, it confuses them even further. It's not something we are currently looking at."
Demand for meat snacks in the UK is on the rise, boosted by interest in protein. However, a countervailing trend is the rising interest among meat-eaters in reducing their consumption of meat. Harriman was sanguine. "Flexitarianism is a trend that is going to continue to grow. If you look at meat snacking overall, there's still a huge opportunity for us to grow penetration. That's the ambition. There are going to be trends that go against us but there are so many things that are going for us, being a protein-based product and having low sugar."
Jack Link's, meanwhile, also plans to launch a marketing campaign behind Peperami in the UK, a brand the company acquired from Unilever in 2014, in the summer.