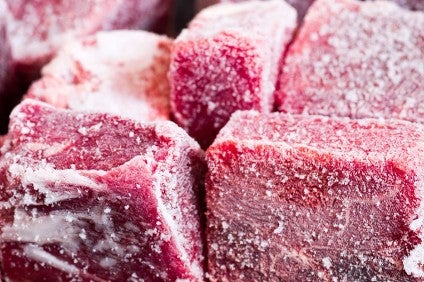 Japan has introduced emergency measures to protect its beef industry by increasing the tariffs on imported frozen beef from the US and other countries.
From 1 August 1 until 31 March 2018, tariffs will leap to 50% from the current 38.5% regime. This is intended as a "safeguard" mechanism to protect domestic farmers, said the Japanese Agriculture ministry in a statement.
This will be the first time tariffs have been increased on beef imports since Augusts 2003.
This comes as US President Donald Trump, who has vowed to pursue an "America First" trade policy, has urged Japan to increase agricultural imports from the US.
Last year, Japanese frozen beef imports from the US were worth in excess of US$400m.
"The safeguard will not only have negative implications for US beef producers, but will also have a significant impact on the Japanese foodservice industry," said the US Meat Export Federation (USMEF) president and chief executive Philip Seng.
The hike will also adversely affect guydon beef bowl restaurants which rely primarily on US frozen beef as a key ingredient to make the popular beef on rice dish, he claimed.
The increase in tariffs is triggered automatically if quarterly imports of beef products go up by more than 17% on a previous year.
Frozen beef imports from all countries were up by 17.1% between April – June in Japan, to 89,253 tonnes, but imports from nations which do not have economic partnership agreements (EPAs) with Japan soared by nearly 25% to 37,823 tonnes, according to government data. Other countries which will be hit by the import tariff include New Zealand and Canada.
Countries which share EPA's with Japan include Australia, Chile and Mexico and will not be affected by the tariff hike.
Total US beef exports to Japan were valued at $731m, up 32% on the same period in 2016. Imports of chilled beef, however, face no increase as their volumes did not exceed the trigger level.