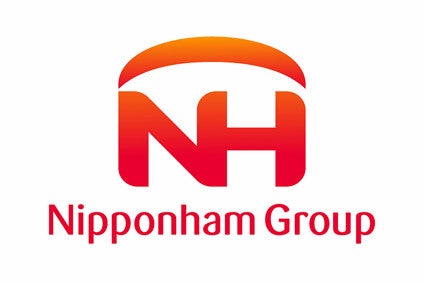 NH Foods, the Japan-based meat, dairy and seafood group, today (9 May) reported an increase in annual sales but revealed its profits declined year-on-year.
In the 12 months to the end of March, NH Foods generated net sales of JPY1.24trn (US$11.49bn), up 2.3% on the previous year.
However, NH Foods said higher logistics costs and an "intensification" of competition on price offset a "calmer" situation on raw material prices. The company booked a 4.3% fall in operating income to JPY46.34bn.
NH Foods' net income dropped 29.9% to JPY21.78bn, with the group pointing to impairment charges.
For the 2016/2017 financial year, NH Foods has forecast net sales of JPY1.27trn, operating income of JPY49bn and net income of JPY31bn.
NH Foods said there are "gradual signs" of a recovery in consumption but it expects competition to remain tough.
The company is part-way through a three-year "management plan" launched in April 2015 that, among other goals, the group hopes will see it "accelerate to a global company".
You can read more about the three-year plan in NH Foods' most-recently published annual report, released last August, here.