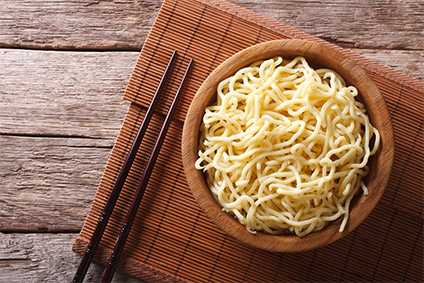 Takara Sangyo Co. has announced plans to open its first European production facility, with the Japanese firm looking to tap into the continent's growing hunger for the country's cuisine and especially ramen noodles.
The company is to invest EUR2.6m (US$3m) in establishing a plant in the town of Amblainville in northern France, although no date has been set for production to commence, an official told just-food.
"This will be our first production site in Europe although the exact details of the project have yet to be decided," a spokesperson said. "We decided to set up a facility in France because we believe Japanese noodles are becoming more popular across Europe and we can manufacture there for delivery to other markets."
He added the site chosen for the factory covers 3,472 square metres and the plant is expected to initially employ 30 staff. If the venture is a success, he said, that number could quickly be ramped up to 50 "or more" employees.
In Japan, Takara makes around 30 varieties of noodles, as well as a selection of the broths they are traditionally served in, including chicken- or fish-based soups. The company also manufactures condiments used in the preparation of ramen.
Founded in 1970, the company set about expanding overseas in 2009, opening a noodle plant in the Chinese city of Tianjin. It opened its second overseas factory in Los Angeles the following year, followed by a plant in Shanghai in 2011 and a facility in Bangkok in 2012.
The initiative will have the blessing of the Japanese government, although no details have been confirmed about any active assistance: encouraging Japanese food companies to develop overseas markets is part of the government's campaign to promote "soft culture," said Makoto Watanabe, a lecturer in communications and media at Hokkaido Bunkyo University.
"Noodles are at the heart of many national dishes in east Asia, but I believe the secret of the popularity of Japanese 'ramen' in Europe and North America is due to the more complex tastes," he said. "The flavours are more structured and deep, which appeals to foreign people as well."
In Japan, noodles are considered a quick and cheap meal, Watanabe said, although in foreign markets they can be far more expensive, which could help Takara make solid returns on its French investment.