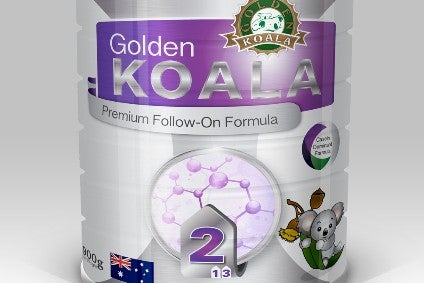 Australia's Jatenergy is close to finalising a deal to buy a majority stake in local milk powder business Golden Koala Group as it seeks to gain a foothold in the Chinese market.
New South Wales-based Jatenergy (JAT) said in a statement today (28 March) the purchase of a 51% holding in Golden Koala (GK) was approved at a board meeting yesterday and is expected to be completed within the next seven days.
Back in December, JAT said it was buying the stake from owner Rongjun Zhao and the deal would be conducted through an initial cash-and-share transaction, followed by two earnings payments, subject to the brand's performance.
JAT also said at that time the shares in Melbourne-based GK would be held by JAT's dedicated milk powder business Cobbitty Country.
However, today's statement did not provide any further details to those outlined in December.
GK's primary product area is Golden Koala Infant Formula, a brand that has been selling into China via the Adeline Group owned by Zhao for the past seven years. The baby milk formula is made by another local manufacturer Nutritional Choice Australia.
Nutritional Choice Australia has approval to sell infant formula in China in accordance with the Certification and Accreditation Administration of the People's Republic of China (CNCA).
However, the Golden Koala brand now needs to seek approval from what was the China Food and Drug Administration (CFDA) until it was disbanded last week as part of an administrative reshuffle. According to the Xinhua News Agency, the new body will now be called The State Market Regulatory Administration.
JAT, GK and Nutritional Choice Australia are in the process of preparing a new application to the new regulatory body, which it plans to formally lodge in either April or May.
For the time being, all existing inventories of infant formula shipped before 1 January still have the necessary approvals for sale in China.
In a separate development today, JAT said it has entered into an initial two-year agreement with Jiangsu Jbingo International to distribute all of its products, including Golden Koala Infant Formula, to "leading Chinese maternal and baby products platforms".
Jiangsu Jbingo is a major product distributor in China with warehouses in Hangzhou Xiasha, near Shanghai, and Chongqing Xiyong in central China.