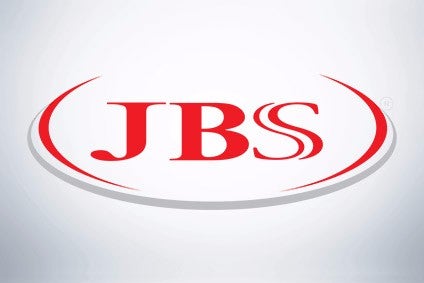 Brazilian meat and poultry processor JBS has reported a jump in full-year sales and profits.
Net income rose 128% in 2015 to BRL4.6bn (US$1.2bn) and operating income grew 88% to BRL7.8bn.
Sales increased 35% to BRL162.9bn. The firm attributed sales growth to export progress with 30% of its global sales being exports. It named Asia and the Middle East as "key markets".
"Our global production platform, unique in the market, combined with our relentless pursuit of operational excellence, permitted us to register good results during 2015. It was a notable year for JBS as we evolved significantly in our strategy. We strengthened our operations in key food producing regions globally and we diversified our product portfolio," said Wesley Batista, JBS's global CEO.
FY results by division
JBS Foods: Sales +45.2% to BRL18.7bn. EBITDA +64% to BRL3.4bn. Strong organic growth and incorporation of acquired companies. Main growth from fresh chicken, increase in processed products.
JBS Mercosul: Sales +9.3% to BRL28.6bn. EBITDA -0.2% to BRL2.3bn. Higher sales prices in domestic and international markets.
JBS USA Beef: Sales +2.4% to BRL 22.1bn. EBITDA -36% to BRL586.7m. Performance of the business unit during the year was impacted by the lower availability of cattle and heifer retention, strengthening of the dollar and higher beef imports.
JBS USA Pork: Sales -10.4% to BRL3.4bn. EBITDA -14.3% to BRL347.5m. Impacted by drop in pork prices during the period.
JBS USA Chicken: Sales -4.7% to BRL8.1bn. EBITDA -10.3% to BRL1.2bn. At Pilgrim's Pride, case ready and small bird operations continued to deliver strong results in spite of challenges in the export markets, while the weakest chicken cutout in the past five years continued to impact the big birds segment of the business, as well as Pilgrim's Mexico operations.
JBS Europe: Sales +1.6% to BRL378.1m. EBITDA -3% to BRL30m. Increased sales volumes in domestic markets, partially offset by lower export prices and strength of sterling versus the euro.