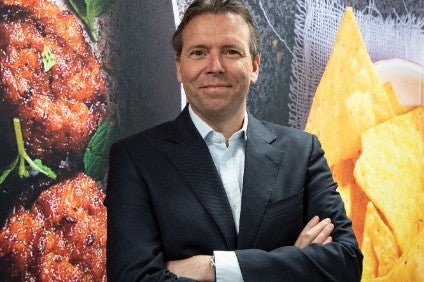 The takeover of Vivera by Brazilian meat giant JBS will allow the plant-based meat business to "travel faster and go further" in implementing its expansion plans, the Dutch firm's CEO has told just-food.
The deal, announced today (19 April), involves JBS paying EUR341m (US$410.4m) for Vivera – the acquisition being subject to approval from the relevant competition authorities.
Speaking to just-food, Vivera chief executive Willem van Weede, said the deal coincides with its main shareholder – Dutch private-equity firm Gilde Buy Out Partners – seeking an exit.
"We have always had quite a lot of interest but until now we have not been tempted to discuss it," he said. "But in recent months that interest has intensified and it coincided with Gilde reaching the end of its natural cycle of investment."
Van Weede said the move is strategic for JBS as it increases the size of its footprint in Europe and its exposure to plant-based meat products.
"They were attracted by the brand and the way it resonates with consumers," he insisted.
Asked whether there is the danger of reputational damage for Vivera from being associated with the world's largest meat processor, van Weede said: "There could be some short-term risk and we need to explain it [the thinking behind the deal] but deep down it makes us more credible.
"There is a serious commitment from JBS to change things in a big way and have a strategic interest in and appetite for plant-based. It's fantastic to have that leverage."
With JBS' backing, Vivera will sees "doors open in other markets", van Weede said.
Until now, the company – which sells its products in 27 countries – has concentrated on Europe, although it does have a distribution deal in Brazil with one of JBS' rivals, BRF. Van Weede said it is "too early to say" what will happen to that deal.
He said JBS is committed to investing in the Vivera brand, its R&D and its organisation. "It is adding to our ambition at all levels," he stated.
Speaking to just-food in December, van Weede said the company has ambitions to triple its sales. Today he said that target is "very much on-track".
The Brazilian meatpacker is already the owner of meat-free brands. Its flagship Seara line launched the Incrível plant-based burger in Brazil in 2019 and the following year Colorado-based Planterra Foods, owned by JBS, instigated a wider rolled out of the Ozo brand in the US.
Post-deal, Vivera will continue to operate as a stand-alone company with van Weede staying in his role.
Vivera was founded in 1990 as Encko-Vivera, a traditional protein company with a presence in vegan and vegetarian products. It went fully plant-based in 2019 when it sold the meat part of the business Encko to Dutch meat processor Van Loon Group.