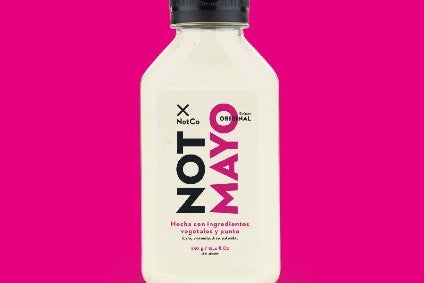 NotCo, a plant-based food manufacturer in Chile, has received a US$30m cash injection from a group of investors, including Jeff Bezos' family office, to fund its expansion into new markets.
The company was founded in 2015 by technologists Matías Muchnick, Pablo Zamora and Karim Pichara, and has produced a plant-based alternative to mayonnaise, Not Mayo, which is made from garbanzo beans. It is stocked in retailers Walmart, Cencosud, Tottus and Unimarc stores across Chile.
Notco said it will use the funds raised to support its new product development, namely alternatives to milk and ice cream, using its unique artificial intelligence (AI) technology platform Giuseppe. It also plans to launch in the US and Mexico this year.
The Craftory, a $300m consumer brand-focused global investment fund based in London and San Francisco, led the financing round with a 60% contribution, along with Jeff Bezos' family office, Bezos Expeditions. Existing investors Kaszek Ventures and IndieBio also participated.
Muchnick, NotCo's co-founder and chief executive, said: "It is a great endorsement to have both The Craftory and Bezos Expeditions invest in our business as we continue to innovate and create enjoyable, sustainable new alternative food products. Their expertise in both FMCG and technology will allow us to further disrupt the food industry and expand our offering to a global audience."
just-food deep-dive: How your brand can win on Amazon in the UK