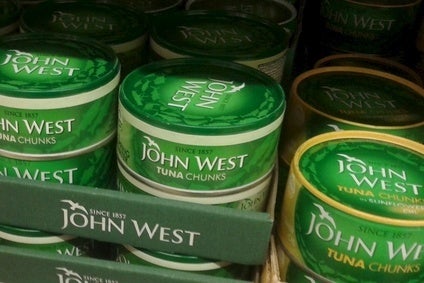 Thai Union Group's UK unit John West and Princes, the UK food and drink group, have come under fire from Greenpeace over their Tuna sourcing and sustainability pledges.
The environmental campaign group has published a "league table" to show which "tuna brands are worst for people, planet and oceans".
John West is ranked last. Greenpeace said the business had promised to source 100% sustainable tuna by 2016 but, the NGO said, had "so far managed 2%".
"They must stop using unsustainable fishing methods that catch sharks, endangered turtles and other creatures," Greenpeace said.
In a statement, John West said it "stands by its sustainability promise 100%", adding: "Despite the figures quoted by Greenpeace, a little over 20% of all our tuna is pole and line; however, much of this is provided to retailers for their private labels. As the global supply of pole and line is extremely limited, and has reduced further in the four years since established our Sustainability Promise, this has severely impacted the availability to sell under the John West brand."
John West insisted tuna caught by the pole-and-line method was not "the only way to achieve sustainability in the tuna industry". With significantly less than 10% of all the tuna in the world being caught using the pole-and-line method, and the global demand for tuna growing, it is clear that quite simply there is not enough pole and line tuna available. With growing demand and falling global supply, it is vital that the industry finds other ways to increase sustainability. We have focused on a number of initiatives including innovation in fish aggregation devices specifically designed to increase sustainability. FADs, if properly managed and limited in number, are extremely effective at targeting single species. In fact, despite how Greenpeace choses to represent them, FADs can actually help to minimise bycatch."
The campaigners also said Thai Union, John West's owner, had been "linked to human rights abuses in their seafood supply chains".
The Greenpeace league table focused on tuna on sale in the UK. However, the campaign group has also in recent days issued statements on "horrendous human rights and environmental issues" in Thai Union's supply chain.
Princes, the privately-owned, Liverpool-based group, came in second last in the Greenpeace ranking. Greenpeace said the company "scores well for protecting local workers but very poor sustainability".
It added: "They promised 100% sustainable tuna by the end of 2014. They've managed a measly 25%. [Princes] continues to use unsustainable methods to catch tuna, which also kill all kinds of other creatures in their nets."
The rest of Greenpeace's league table featured major retailers operating in the UK. LIDL was the bottom-ranked retailer. Greenpeace said "nearly 80%" of the discounter's tuna was "caught using destructive fishing methods". The NGO added: "They should commit to sourcing tuna using only sustainable fishing methods. On the positive, Lidl has good sea to shelf traceability."
Waitrose, the upmarket UK grocer, emerged top. "Other companies should follow their lead. Tuna is 100% sustainably caught and Waitrose is dedicated to ensuring it is fairly caught."